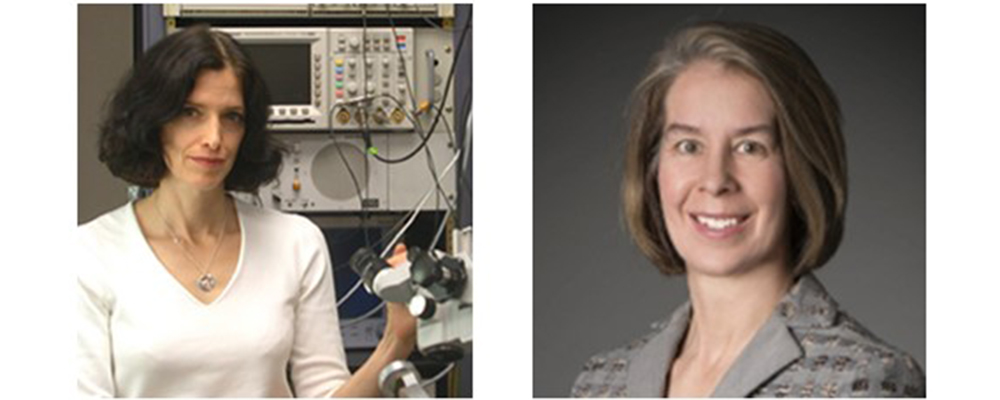 NEW YORK, February 12, 2019  — Dr. Judith Hirsch, professor of biological sciences at the University of Southern California, and Dr. Monica Vetter, professor of neurobiology and anatomy at the University of Utah, were the keynote speakers during SUNY Optometry's VisioNYC, a meeting for vision scientists in greater New York, on Monday, February 11.
Dr. Hirsch presented on comparative approaches to understanding the structure and function of inhibitory circuits in the visual thalamus. Her laboratory explores the earliest stages of visual cortical processing, specifically how thalamocortical connections and circuits within the striate cortex itself resolve basic features of the visual scene. She received her doctorate in neurophysiology from the University of Wisconsin, Madison.
Dr. Vetter's talk addressed dynamic remodelers of the developing retina, or microglia. Her laboratory focuses on understanding the molecular pathways controlling neural development and degeneration in the retina. The retina is of critical importance since disorders of eye development can lead to congenital blindness, while degeneration of retinal neurons can cause progressive blindness at later ages. She received her doctorate in neuroscience from the University of California.
About SUNY Optometry
Founded in 1971 and located in New York City, the State University of New York College of Optometry is a leader in education, research and patient care, offering the Doctor of Optometry degree as well as MS and PhD degrees in vision science. The College conducts a robust program of basic, translational and clinical research and has 65 affiliated clinical training sites. SUNY Optometry is regionally accredited by the Commission on Higher Education of the Middle States Association of Colleges and Secondary Schools; its four-year professional degree program and residency programs are accredited by the Accreditation Council on Optometric Education of the American Optometric Association. All classrooms, research facilities and the University Eye Center, which is one of the largest optometric outpatient facilities in the nation, are located on 42nd Street between Fifth and Sixth Avenues in midtown Manhattan.
Media Contact: Amber E. Hopkins Tingle, 212.938.5607, amber@sunyopt.edu