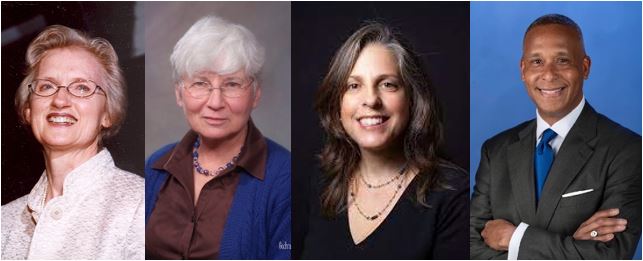 Dr. Wayne J. Riley will deliver 2023 Commencement Address on May 25th
New York, NY – The State University of New York (SUNY) College of Optometry today announced it will award honorary degrees during the 49th Commencement Ceremonies to two distinguished professionals who have made substantial contributions to the advancement of optometry and public healthcare: Anne B. Fulton, MD and Ronda Stilley Kotelchuck.
The honorary degrees will be conferred to both recipients during the College's commencement ceremony on May 25, after a commencement address by Dr. Wayne Riley, President of SUNY Downstate Health Sciences University.
Ms. Ronda Stilley Kotelchuck, who will receive a doctor of humane letters, honoris causa, served as the founding CEO of the Primary Care Development Corporation (PCDC). Currently, Ms. Kotelchuck chairs the Board of Directors of the NY School-Based Health Foundation and serves on the boards of Community Health Network and Nonprofit New York. She is being recognized as a seminal figure in the effort to transform the delivery and quality of primary health care services in low-income and underserved communities in New York City as well as her ongoing leadership in addressing resources to help overcome social determinants of health such as housing, food, education, and transportation.
Anne B. Fulton, MD, Professor of Ophthalmology at Harvard Medical School and Senior Associate in Ophthalmology at Boston Children's Hospital, is renowned investigator of normal and abnormal retinal and visual development in infants and adults. As a primary investigator
with decades of support from the National Eye Institute, her work continues to advance our understanding of inherited retinal diseases and retinopathy of prematurity at the cellular and molecular level. She has authored or co-authored hundreds of peer-reviewed publications across a range of journals. In her clinical practice, she sees infants and children with a broad spectrum of vision-impairing conditions, about half of whom have inherited retinal disorders. Dr. Fulton will receive the doctor of science, honoris causa, degree in recognition of her contributions to the field of vision science.
In addition to the two honorary degrees being presented at the May 25th ceremony, Dr. David A. Heath, SUNY College of Optometry President, will bestow upon Dr. Julia Appel '91, R'92, the Presidential Medallion for her career-long contributions and dedication to the advancement of the College and the communities it serves. Dr. Appel has served on the SUNY Optometry faculty since 1992 and is an associate clinical professor supporting students as the clinical education coordinator for third-year interns and as an eye care provider in the University Eye Center. Dr. Appel has served the College and alumni community as Alumni Association President (2009 to 2013), championed the first-ever capital campaign and funded the Class of 1991 Pacesetter Award. She received the SUNY Chancellor's Award for Excellence in Teaching in 2015, the New York State Optometric Association's Optometric Educator of the Year Award in 2017 and was named the 2019 Alumna of the Year by the SUNY College of Optometry Alumni Association. She is a fellow of the American Academy of Optometry and a diplomate of the American Board of Optometry.
Dr. Wayne J. Riley will deliver the 2023 Commencement Address. He is a nationally renowned general internist who serves as the 17th President of SUNY Downstate Health Sciences University in Brooklyn. Dr. Riley has more than 25 years of progressively senior executive level management and policy experience. He has extensive leadership experience in academic medicine, patient care, research administration, academic health center administration, healthcare management, health policy, biotechnology, the corporate sector, government service, advocacy, and organized medicine. He earned his BA degree from Yale University, an M.D. from Morehouse School of Medicine, an MBA from Rice University, and an MPH from Tulane University. He is also a fellow of the American College of Physicians. Dr. Riley sits on numerous boards throughout New York City, the country, and around the world.
The 2023 graduating class includes 95 doctor of optometry degrees, 7 masters of science degrees, and 4 receiving PhD in Vision Science degrees including several students who pursued dual degrees, microcredential programs, or other enhanced programs.
The SUNY Board of Trustees votes and grants approval for all honorary degree recipients.
FOR IMMEDIATE RELEASE: May 8, 2023
###
About SUNY Optometry
Founded in 1971 and located in New York City, the State University of New York College of Optometry is a leader in education, research, and patient care, offering the Doctor of Optometry degree as well as MS and Ph.D. degrees in vision science. The College conducts a robust program of basic, translational and clinical research and has 65 affiliated clinical training sites. SUNY Optometry is regionally accredited by the Commission on Higher Education of the Middle States Association of Colleges and Secondary Schools; its four-year professional degree program and residency programs are accredited by the Accreditation Council on Optometric Education of the American Optometric Association. All classrooms, research facilities, and the University Eye Center, which is one of the largest optometric outpatient facilities in the nation, are located on 42nd Street between Fifth and Sixth Avenues in midtown Manhattan. To learn more about SUNY Optometry, visit www.sunyopt.edu.
Contact: Rob Rosiello, communications@sunyopt.edu