The OCNY board member believes in the importance of serving communities—and in the power of the College to do so.
With the appointment of one of its newest board members, P. Gregory Hess, the Optometric Center of New York (OCNY), SUNY Optometry's affiliated foundation, is poised to benefit from three decades of dedication to and experience in community-focused work.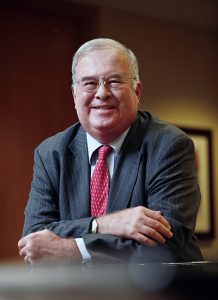 For seven years, the attorney—who specializes in estate planning—was on the trusts and estates committee of the OCNY, serving as co-chair for part of that time. And last fall, Mr. Hess joined the board. "I enjoy giving back to the community, and OCNY is an amazing institution, with so many services," he says. During his tenure, he hopes to assist with fundraising while continuing to learn about the College.
While Mr. Hess is new to the board, he is a longtime supporter of health- and community-related organizations. He is a former director of the New York City affiliate of the American Heart Association and was a member of the board of trustees for the New York School for the Deaf (NYSD) for 32 years, with half of his tenure spent as either president or chairman of the board. "NYSD has some similarities to the College, in that it is largely, but not completely, funded by the State of New York," says Mr. Hess.
He was also a director and officer of Pro Mujer, a micro credit organization that provides small loans to women entrepreneurs in five countries in South America. "During my [time] on the board, the organization matured to a self-sustaining not-for-profit with a wide range of financial supporters," he says. "It was great to watch—and hopefully help—the organization mature."
Mr. Hess is senior counsel at Davidson, Dawson & Clark LLP, which is one of the largest estate planning and administration firms in New York City. A graduate of Princeton University and Yale Law School with a Master of Laws degree in taxation from New York University, he speaks regularly on estate planning, planned giving and charitable planning issues.
Yet for all of these achievements, his greatest work happens when he leaves the office. "My proudest personal accomplishment is, with my wife, raising four great children who are good friends, and not 'just' relatives," says the Wheeling, West Virginia-native who now lives in Ossining, New York. "I'd like to be remembered as a good father and grandfather, and as someone who served my clients well."