Two SUNY Optometry graduates lead the list of optometrists ranked nationwide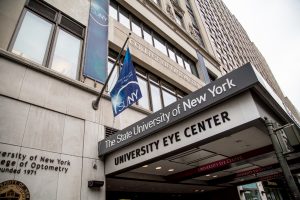 New York, NY— Over 20 alumni and faculty from the State University of New York (SUNY) College of Optometry have been awarded America's Best Eye Doctors 2021  by Newsweek magazine. The prestigious honor recognizing the top 300 ophthalmologists and optometrists in the United States was released July 26, 2021, and is available on the Newsweek website.
Topping the nationwide list of 150 optometrists at first and second place are SUNY Optometry alumni Arthur B. Epstein, OD, '77, a private practitioner in Arizona and the College's first resident in ocular disease, followed by Viola Kanevsky, OD, '93, a private practitioner in New York City and President of the New York State Optometric Association. 
Also securing spots among the country's best are SUNY Optometry faculty and clinicians at the College's University Eye Center (UEC), including Marilyn Vricella, OD, '97, Associate Clinical Professor in Pediatrics; Richard Madonna, OD, '85; Professor and Chair of the Department of Clinical Education; and Jerome Sherman, OD, Distinguished Teaching Professor, who has trained students and cared for patients the College since its founding in 1971.  
They are joined in the ranking by fellow faculty-at-large: Andrea P. Thau, OD, '84, SUNY Optometry Associate Clinical Professor Emerita, who runs a private practice in Manhattan; Thuy Tran, OD, Adjunct Clinical Professor and President of the Optometric Society of New York; Anna Lange, OD, '15, Adjunct Professor and Ocular Disease Residency Supervisor, and Marina Su, OD, '13, Adjunct Assistant Clinical Professor—both of whom are optometrists at the Fromer Eye Center in New York.  
Other SUNY Optometry OD and residency alumni named to the list include: Alan Schlussel, '84; Daniel Epshtein, '15; Justin Bazan, '04; Susan Resnick, '83; Sam Stumer, '91; Angela Nguyen, '15; Marie Bodack, '98/ former faculty member; Long Tran, '03; Gloria Chow, '13; Alexis Malkin, '09; Yin C. Tea, '00; and Benjamin Casella, '08.  
Congratulations also to former SUNY Optometry faculty member and clinician, Leonard Press, OD, who served as UEC Chief of the Vision Therapy Service for 15 years. With over 40 years in optometric practice, Dr. Press is considered a leading authority in vision development and vision therapy.
Newsweek's America's Best Eye Doctors recognizes the finest ophthalmologists and optometrists in the nation each year. Newsweek partnered with global research firm Statista to survey over 10,000 optometrists, ophthalmologists, and other health professionals to determine the most well-respected clinicians in the U.S. The ranking process involved three categories: continuity of care, quality of care, and quality of technology practices.
For more information about SUNY College of Optometry, celebrating 50 years of scholarship and service this year, visit sunyopt.edu.
July 29, 2021
Contact: Adrienne Stoller, SUNY College of Optometry, communications@sunyopt.edu or 212-938-5607.
###
About SUNY College of Optometry

Founded in 1971 and located in New York City, the State University of New York College of Optometry is a leader in education, research, and patient care, offering the Doctor of Optometry degree as well as MS and PhD degrees in vision science. The College conducts a robust program of basic, translational and clinical research and has 65 affiliated clinical training sites as well as an on-site clinic, the University Eye Center. SUNY College of Optometry is regionally accredited by the Commission on Higher Education of the Middle States Association of Colleges and Secondary Schools; its four-year professional degree program and residency programs are accredited by the Accreditation Council on Optometric Education of the American Optometric Association. All classrooms, research facilities and the University Eye Center, which is one of the largest optometric outpatient facilities in the nation, are located on 42nd Street in midtown Manhattan. To learn more about SUNY College of Optometry, visit www.suny.edu.