October 9, 2020
SPECtrum at SUNY Optometry Leads Efforts to Cultivate an LGBT-friendly Campus and Clinic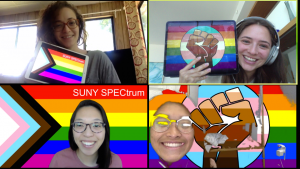 New York, NY—October is LGBT History Month!  SUNY College of Optometry's SPECtrum celebrates their contribution to the cause as the nation's first LGBT student-run club housed at an independent college of optometry. Established in 2016 by alumnus Dr. Brandon Harnos '19 and faculty advisor Dr. Michael McGovern '97, SPECtrum offers a safe space and resources for LGBT members and seeks to educate the College community around the full spectrum of human gender and sexuality.
This month, SPECtrum is introducing new ways to cultivate a welcoming setting on campus and in the clinic for people of all sexual orientations, gender identities, and gender expressions. Their efforts include facilitating the placement of Pride flags in patient waiting rooms of the University Eye Center and throughout the College facility to promote an open and safe atmosphere for all visitors. The group is also offering Pride flag pins to SUNY Optometry students, faculty, and staff to be worn as a sign of LGBT support and solidarity.
"Effective healthcare involves approaching people with an open heart and making sure that they feel comfortable and accepted," said SPECtrum President and second-year student, Rebecca Chan Min. "We have an opportunity to create an accepting and inclusive environment for LGBT providers and patients."
To enhance the patient experience for LGBT people, SPECtrum members are working closely with SUNY Optometry clinic chiefs to customize patient intake forms to make them more inclusive of diverse population needs and situations. Modifications would include the addition of fields or prompts that address the issues of gender, such as preferred names and pronouns. "It will help patients to become more engaged and trusting in their care from the start," explains Chan Min.
In addition, SPECtrum plans to facilitate workshops and discussions for students and staff on LGBT issues to increase awareness, confront biases, and help eliminate disparities in healthcare.
For more information about diversity and inclusion initiatives at SUNY Optometry, visit sunyopt.edu.
Organization Contact: Adrienne Stoller, communications@sunyopt.edu or astoller@sunyopt.edu, 212-938-5600
SPOTLIGHT ON LGBT HISTORY MONTH
About SUNY Optometry
Founded in 1971 and located in New York City, the State University of New York College of Optometry is a leader in education, research, and patient care, offering the Doctor of Optometry degree as well as MS and PhD degrees in vision science. The College conducts a robust program of basic, translational, and clinical research and has 65 affiliated clinical training sites as well as an on-site clinic, the University Eye Center. SUNY Optometry is regionally accredited by the Commission on Higher Education of the Middle States Association of Colleges and Secondary Schools; its four-year professional degree program and residency programs are accredited by the Accreditation Council on Optometric Education of the American Optometric Association. All classrooms, research facilities and the University Eye Center, which is one of the largest optometric outpatient facilities in the nation, are located on 42nd Street in midtown Manhattan. To learn more about SUNY Optometry, visit www.sunyopt.edu.