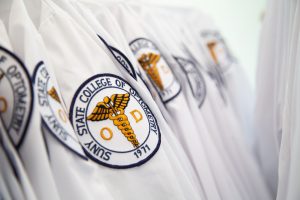 New York, NY— The State University of New York (SUNY) College of Optometry is proud to receive an "affirm re-accreditation" decision from the Middle States Commission on Higher Education (MSCHE), one of seven institutional accrediting bodies in the United States that is recognized by the US Secretary of Education and the Council for Higher Education Accreditation (CHEA).
Marking five decades of scholarship and service this year, SUNY Optometry received confirmation of accreditation this month following a rigorous two-year self-study evaluation and a site visit conducted virtually by the MSCHE team in April 2021.
"Despite the challenges presented to our students and staff amid the pandemic, I am pleased to report that we were able to meet each of the quality standards set forth by the MSCHE. It is an achievement that is especially poignant as we commemorate the College's 50th anniversary this year," said SUNY College President David A. Heath, OD, EdM. "We received our initial accreditation from the MSCHE in 1976 and since then have benefited from the Commission's ongoing support, recommendations, and confidence in our evolving model for education and operation. Affirmation of our accreditation is a measure of progress and success made only possible by the collaborative efforts of our entire College community."
The MSCHE Accreditation Standards and Requirements of Affiliation are comprised of seven standards and 15 requirements to ensure institutions meet and maintain excellence in education. Accredited institutions are expected to demonstrate compliance with these standards and requirements and engage in an ongoing process of self-review and improvement. It is a progress check that involves a comprehensive and consistent cycle of reevaluation of an accredited institution every eight years by the Commission.
"The accreditation process is a community effort. My goal was to effectively coordinate the effort and make sure that all voices were heard while addressing Middle States standards," explained Steven Schwartz, PhD, past-director of Institutional Research and Planning, who led the College accreditation process along with his successor Suresh Viswanathan, PhD, chair of the Department of Biological and Vision Sciences. "Prior to a Commission site visit, an institution conducts a comprehensive self-study by way of a steering committee that is tasked with compiling and analyzing data and documents to show compliance with MSCHE standards."
The MSCHE self-study at SUNY Optometry included the dedicated time and efforts of the College's Institutional Research & Planning Committee, senior management team, IT/media services, and support staff that worked closely together to yield a favorable decision from the Commission. The decision for re-accreditation included no further recommendations or actions required to achieve standards and compliance for re-accreditation.
"The result was as good as we could have hoped for," said Dr. Schwartz.
The next MSCHE self-study evaluation for the College is scheduled for the 2028–2029 academic year. For more information about SUNY Optometry, visit sunyopt.edu.
August 4, 2021
Organization contact: Adrienne Stoller, communications@sunyopt.edu, 212-938-5600
###
About SUNY Optometry
Founded in 1971 and located in New York City, the State University of New York College of Optometry is a leader in education, research, and patient care, offering the Doctor of Optometry degree as well as MS and PhD degrees in vision science. The College conducts a robust program of basic, translational, and clinical research and has 65 affiliated clinical training sites as well as an on-site clinic, the University Eye Center. SUNY Optometry is regionally accredited by the Commission on Higher Education of the Middle States Association of Colleges and Secondary Schools; its four-year professional degree program and residency programs are accredited by the Accreditation Council on Optometric Education of the American Optometric Association. All classrooms, research facilities and the University Eye Center, which is one of the largest optometric outpatient facilities in the nation, are located on 42nd Street in midtown Manhattan. To learn more about SUNY Optometry, visit www.sunyopt.edu.