Optometric Center of New York Awards "Eyes on New York" Top Honor to SUNY Optometry President Dr. David A. Heath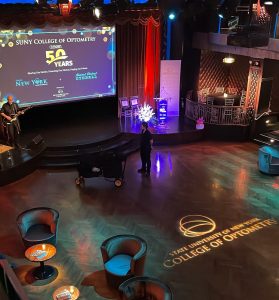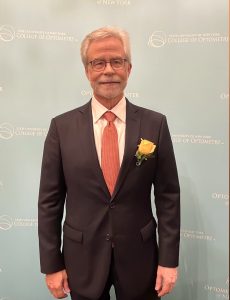 NEW YORK, NEW YORK — This week, New York State Representatives Amy Paulin and Richard Gottfried, joined the
nation's leading optometry researchers and providers to celebrate 50 years of SUNY College of Optometry's leadership in optometric education, advancement of vision research, and world-class patient care. Since 1971, SUNY Optometry, which holds one of the largest optometric outpatient facilities in the nation, has been committed to the discovery and advancement of vision care.
The event, held by the Optometric Center of New York (OCNY) and hosted by actress and disability advocate Marilee Talkington, honored SUNY Optometry President Dr. David A. Heath with the 2022 Eyes on Leadership Award, recognizing his years of dedicated service to the College and the practice of optometry. The annual gala, which has been the signature event of the OCNY for over twenty years, raised a record $300,000 to expand scholarship opportunities and grant support for optometry students. 
​​"For fifteen years, I've had the tremendous honor to serve as president of SUNY Optometry and aid in the growth and progress of this evolving profession as we prepare the next generation of optometrists and vision researchers," said Dr. David A. Heath. "​​As we look to the future, I am confident SUNY Optometry will continue to be true to its values, including educational innovation, investing in the growth of our research programs, increasing access to eye care through our community and healthcare partnerships, and deepening our commitment to diversity and inclusion. As we pass this 50-year milestone, I am confident we have created a momentum that I hope will carry us through another 50 wonderful years."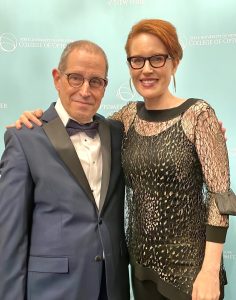 "Over the past 50 years, the College of Optometry has grown from what was once a small school of 18 students in its inaugural class to graduating a class of nearly 100 highly trained and passionate eye care professionals each year," said Optometric Center of New York Board President, Dr. Richard Soden. "I'm proud to be part of this community that includes countless dedicated and compassionate faculty, staff and students. I am confident that we will continue to play a significant role in the advancement of eye care and vision as we move into our next 50 years." 
The Optometric Center of New York (OCNY) was founded in 1956 by pioneering optometrists and business leaders to address the void of professional education and patient care services after the closing of Columbia University's optometry program. The initial volunteers and board members advocated for the opening of SUNY College of Optometry in 1971 at which time the OCNY became the philanthropic foundation supporting the activities and programs of SUNY College of Optometry.
For additional information, please visit www.sunyopt.edu/50years. For additional information about the Optometric Center of New York, please visit www.ocny.org
FOR IMMEDIATE RELEASE: April 15th, 2022
MEDIA CONTACT:  Dawn Rigney | communications@sunyopt.edu | 212-938-5600
###
About SUNY Optometry
Founded in 1971 and located in New York City, the State University of New York College of Optometry is a leader in education, research, and patient care, offering the Doctor of Optometry degree as well as MS and PhD degrees in vision science. The College conducts a robust program of basic, translational, and clinical research and has over 65 affiliated clinical training sites as well as an on-site clinic, the University Eye Center. The Optometric Center of New York serves as the College's affiliated philanthropic foundation securing resources to support the mission of the College. SUNY Optometry is regionally accredited by the Commission on Higher Education of the Middle States Association of Colleges and Secondary Schools; its four-year professional degree program and residency programs are accredited by the Accreditation Council on Optometric Education of the American Optometric Association. All classrooms, research facilities and the University Eye Center, which is one of the largest optometric outpatient facilities in the nation, are located on 42nd Street in midtown Manhattan. To learn more about SUNY Optometry, visit www.sunyopt.edu.