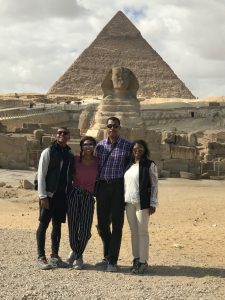 New York, NY—Over 35 years ago, two students at SUNY College of Optometry embarked on a journey that not only led to fulfilling careers but also a life spent together. Today, husband and wife team Frank Barnes, Jr., OD, '86 and Tanya Carter, OD, '87, are parents of two grown children and partners of a comprehensive optometric practice in Montclair, New Jersey, a venture they began in 1991 that continues to grow in size and reputation.
"We are proud African American doctors, business owners, and proprietors. Our practice started in a 750 square foot space and expanded over time. We now own the block of buildings in Montclair that houses our practice and other businesses and residences. We plan to move our office to a 5,000 square foot renovated space in the same location," said Dr. Barnes, whose practice with Carter offers a full scope of care for adults and children, including low vision and vision therapy as well as an optical lab and dispensary area. 
The secret to their success:  a combined and complementary mix of individual expertise, strengths and skills.
"As an educator and clinician, Dr. Carter can connect and communicate with patients and teach our staff what is needed to ensure that we always provide the best care possible. She helps me to consider the details in every exam," said Dr. Barnes. "In turn, I manage the business side of the practice, including equipment acquisition, investments, and other aspects. We have a balance that works well for us."
Building bonds
In his first year at SUNY Optometry, Brooklyn-native Dr. Barnes recalled starting off with three people of color like himself. By the second semester that year, he was the only one of the small group to return and among just three African American students in total at the College.
"My classmates were great friends in the classroom, but outside of that, I didn't feel a sense of belonging or being a full part of the community," said Dr. Barnes. But that changed after attending a meeting of the National Optometric Association (NOA).
"The summer after my first year, SUNY did a wonderful thing and sent me to the NOA convention," said Dr. Barnes. "It was there I was able to see others who looked like me, who were all going in the same direction. It was powerful, and I didn't feel alone."
Following the NOA experience, Dr. Barnes was inspired along with peers at SUNY Optometry to begin a chapter of NOSA (National Optometric Student Association). Dr. Carter joined NOSA that same year as a new student to the College.
"By forming the chapter at SUNY, we were able to have a group where we could share information and resources for study, host and share events, and broaden opportunities. It is good to see the chapter has grown and is still going strong at SUNY," said Dr. Barnes, who currently serves as Vice President of NOA.
Mentoring matters
Dr. Barnes's inspiration to enter the healthcare field was close to home and the heart. "My mother was a nurse who cared for premature infants. I was familiar with the healthcare environment from a young age and wanted to be a part of it." In College, he was a chemistry major on the pre-med track and later decided to pursue a Ph.D. in chemistry and work in chemical engineering. "In the process of taking the GRE and considering graduate schools, I was contacted by an optometrist who said my profile matched optometry as a career for consideration," recalled Dr. Barnes. "I realized medicine wasn't for me but I wanted to be in healthcare, and that unexpected outreach gave me a different point of view. It was a lifesaver."
For Dr. Carter, it was also her mother's influence and work at an optical plant laid the groundwork for a career as an eye doctor. In addition to the support of her husband and business partner, whom she met at a summer enrichment program before entering SUNY Optometry, Dr. Carter also credits a trusted mentor for inspiration and guidance on the path to becoming a clinician-educator in optometry. "NOA member Dr. James Washington, who has a practice in East Orange, New Jersey, was one of the few Black optometrists in the region and among the few who did vision therapy. He showed me the ropes," said Dr. Carter, a native of Buffalo, NY, and retired SUNY Optometry professor.
These key connections and more are why the doctors say that mentorship is critical to motivation and success, particularly for underrepresented minority students who benefit from the guidance of educators and professionals who understand their experience. "This past year, the number of Black students in the first-year class at SUNY Optometry increased but we also need to increase Black faculty," said Carter. "College President Dr. Heath formed a task force to address the issue, and I agree with initiatives. It is a work in progress."
In addition to mentoring optometry students in various clinics or at their home office, Drs. Barnes and Carter have also inspired young patients in their practice to enter the field, many of whom are students at SUNY Optometry.  
"We feel it is important for us to share and extend opportunities to students that we didn't have. Our advice to them is to gain as much exposure in the clinic as possible and to see as many patients as you can, which is a strong part of the SUNY experience," said Dr. Barnes. "Don't be afraid to ask questions of faculty and clinicians and get as much out of school as you can while you're there."  
"Work hard, put the phone down," added Dr. Carter, "and learn to think outside of the box."
For more information about SUNY Optometry and its alumni network comprising more than 3,400 graduates in New York State and throughout the nation, visit sunyopt.edu.
June 4, 2021

Organization Contact: Adrienne Stoller, communications@sunyopt.edu, 212-938-5600
###
About SUNY College of Optometry

Founded in 1971 and located in New York City, the State University of New York College of Optometry is a leader in education, research, and patient care, offering the Doctor of Optometry degree as well as MS and PhD degrees in vision science. The College conducts a robust program of basic, translational and clinical research and has 65 affiliated clinical training sites as well as an on-site clinic, the University Eye Center.  SUNY College of Optometry is regionally accredited by the Commission on Higher Education of the Middle States Association of Colleges and Secondary Schools; its four-year professional degree program and residency programs are accredited by the Accreditation Council on Optometric Education of the American Optometric Association. All classrooms, research facilities and the University Eye Center, which is one of the largest optometric outpatient facilities in the nation, are located on 42nd Street in midtown Manhattan. To learn more about SUNY College of Optometry, visit www.suny.edu.