Instead of snoozing through the commencement speech, he heard words that sealed his professional fate.
Dr. Benjamin Arthur thought he knew exactly what was important to him when he graduated from SUNY Optometry in 2013. And he had never been more wrong.
"I was about to graduate and all I was thinking was, 'I need to get into this workforce, I need to make money and start paying off these student loans,'" he says.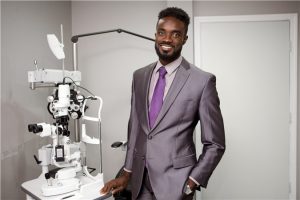 But during the commencement ceremony, as Dr. Arthur sat with his dreams of cashing checks, the keynote speaker, Dr. Melvin Shipp, who was the first optometrist to serve as president of the American Public Health Association, preached a very different message. "Dr. Shipp said, the community is expecting you to come and serve them. They have served you by putting you through this program, and now this is your opportunity to serve them," Dr. Arthur recalls. "The other thing he said was, 'the focus should never be about money,' and that sort of struck me."
Dr. Arthur took note of the speaker's words, but stayed on his own path. He soon found himself juggling work in a number of private practices in Brooklyn, Queens and New Jersey. While they facilitated his student loan repayment, the positions fulfilled little else that he was looking for as an optometrist. "Experience after experience after experience of working for other people was negative," he says.
So then, he decided to tried it Dr. Shipp's way. In 2015, he opened his own practice, Perspective Family Eyecare. Located in the Crown Heights section of Brooklyn, New York, working there has been more satisfying than anything Dr. Arthur—who admits he was not very entrepreneurial-minded in optometry school—ever imagined. "We provide excellent quality care and service to everyone," he says. "And when I say everyone, I mean without a concern for social status or background."
Recently, Dr. Arthur had a chance to give back to SUNY Optometry in the same way that he was inspired as a student – by visiting campus to give a talk during the annual career symposium. Though asked to discuss the benefits and challenges of opening a private practice, he went further back—to being a young man in Accra, Ghana, to life as a biochemistry major at Lafayette College in Easton, Pennsylvania, to his decision to pursue a career in optometry in New York City.
The globe-hopping story was a success. "It was very well received," says Dr. Arthur. "And the experience was also great for me. I learned as much about myself as they did." But what he has never forgotten is that the riches of his chosen profession come from service, not checks.