Dr. Joy Harewood to help advance representation in optometric training and practice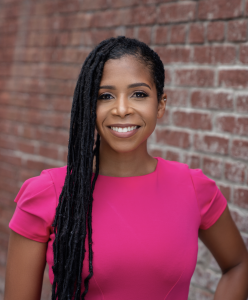 New York, NY, February 4, 2021—The State University of New York (SUNY) College of Optometry is pleased to announce the appointment of Joy Harewood, OD, FAAO, as the College's first Director of Diversity, Equity, Inclusion and Belonging (DDEIB) and associate clinical professor. The fulfillment of this role is among many key initiatives prioritized by the College President's Task Force on Race and Equity, a panel of staff, faculty and students formed last year to advance existing and new diversity and inclusion efforts while opening up the conversation about race, ethnicity, and bias throughout the campus community.
"In this position, Dr. Harewood will serve as an educator, influencer, and leader who is charged with developing collaborative partnerships on- and off-campus that fuel support and implement best practices in our mission to advance a diverse, equitable, and inclusive culture at the College," said David A. Heath, OD, EdM, president of SUNY Optometry. "She will provide key leadership as we continue to cultivate an environment where all College community members have the opportunity to succeed. I am very much looking forward to her joining our campus community."
SUNY Optometry Vice President of Student Affairs and Chief Diversity Officer, Guilherme F. C. Albieri, PhD, shares in the excitement of welcoming Dr. Harewood to the team. "She will play a key role in advancing and further improving diversity and inclusion initiatives and programs already established at the College and developing new initiatives to target disparities and inequities in optometric education and patient care," stated Dr. Albieri. "Her passion for and focus on building a culture of belonging will be a major asset for the College community."
Dr. Harewood will start a new chapter in her career and the College's history beginning on March 1, 2021.
 "Optometry serves as a primary entry point to health care for people from all walks of life. This makes our profession uniquely positioned to positively influence access to care for many vulnerable populations. To properly serve these and many other populations, we must reflect the diversity of the patients that we serve. We must make sure that all voices in the SUNY optometry community, from the classroom to the exam chair, feel heard, seen, and understood," said Dr. Harewood. "I see my new position as supporting these efforts while setting an example of what a culture of equity, inclusion, and belonging can achieve in clinical and didactic optometric education."
Leading up to her new and vital role, Dr. Harewood is well-known to the SUNY Optometry campus and health care community. She has served as an adjunct clinical faculty member at the College, where she completed her residency in ocular disease in 2012. In addition to student and professional instruction, she has treated patients of all walks of life at the BronxCare Health System and other facilities throughout the New York metropolitan area, focusing on managing and treating ocular trauma, diabetic retinopathy, and glaucoma management. Her clinical work before BronxCare includes as a staff optometrist at Staten Island University Hospital-Northwell Health, where she was twice recognized with a Service Excellence Award for exemplary patient care.
A native of Canada, Dr. Harewood is a graduate of UC Berkley School of Optometry and was appointed to the school's Council for Diversity, Equity, Inclusion, and Belonging for promoting diversity within the optometric profession and service to underserved communities. She has published and lectured on various topics that impact optometric education and care, and was an influential voice in the College's Race in Optometry webinar series, a forum that brought together academic and industry leaders in optometry to discuss ways to increase minority representation in the profession.
"SUNY College of Optometry continues to lead from the front by committing to prioritizing these values," said Dr. Harewood. "There is no excellence without diversity, and I am eager to help in the pursuit of excellence with this new role."
For more information about diversity and inclusion initiatives at SUNY College of Optometry, including the President's Task Force on Race and Equity, visit sunyopt.edu.
Organization contact: Adrienne Stoller, communications@sunyopt.edu, 212-938-5600
About SUNY Optometry
Founded in 1971 and located in New York City, the State University of New York College of Optometry is a leader in education, research, and patient care, offering the Doctor of Optometry degree as well as MS and PhD degrees in vision science. The College conducts a robust program of basic, translational and clinical research and has 65 affiliated clinical training sites as well as an on-site clinic, the University Eye Center.  SUNY Optometry is regionally accredited by the Commission on Higher Education of the Middle States Association of Colleges and Secondary Schools; its four-year professional degree program and residency programs are accredited by the Accreditation Council on Optometric Education of the American Optometric Association. All classrooms, research facilities and the University Eye Center, which is one of the largest optometric outpatient facilities in the nation, are located on 42nd Street in midtown Manhattan. To learn more about SUNY Optometry, visit www.sunyopt.edu.