NEW YORK, June 21, 2019 — SUNY Optometry clinical professor Dr. Murray Fingeret was inducted into the National Optometry Hall of Fame during Optometry's Meeting in St. Louis on Thursday, June 20. The honor highlights luminaries who have made a significant and long-lasting impact on the profession.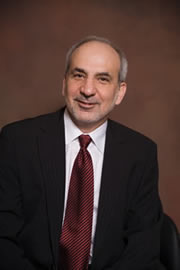 Throughout his career, Dr. Fingeret has reinforced standards of glaucoma care and forged relationships within the medical community about the importance of comprehensive vision care. He is the founder of the Optometric Glaucoma Society, which brings together influential figures from many fields to support glaucoma research, and served as its first president from 2002 to 2007.
He was instructor of record for SUNY Optometry's glaucoma course for 17 years and has published many articles in prominent journals, including Investigative Ophthalmology, Ophthalmology and Vision Science, Journal of Glaucoma, Optometry and Vision Science and Optometry. He has also co-written books and chapters on glaucoma that have been used in many optometry curricula. He served as guest editor for the 1999 and 2011 glaucoma issues of Optometry and Vision Science and on the editorial boards of Journal of Glaucoma, Glaucoma Today and International Glaucoma Review.
In addition to his longtime membership in the American Optometric Association (AOA), Dr. Fingeret is a fellow of the American Academy of Optometry (AAO). He was an officer of the disease section for more than a decade and helped develop the glaucoma section in 2012.
Dr. Fingeret earned his optometry degree from the New England College of Optometry in 1976. Upon completing his primary care residency at the Genessee Valley Group Health Association in Rochester, N.Y., he became a staff optometrist at the institution. He then became chief of the optometry section at the Birmingham Veterans Administration Medical Center, which led to his promotion to chief of the optometry section at the Department of Veterans Affairs Medical Center in Queens, N.Y. He has dedicated more than 30 years of his career to the welfare of veterans.
Dr. Fingeret received the Most Influential People in Optometry Award from Optometric Management in 2015, the Vincent Ellerbrock Clinical Educator Award from the AAO in 2013, the Carel C. Koch Memorial Medal in 2006, the New York State Optometric Association Distinguished Achievement Award in 2008 and the Association of Military Surgeons of the United States Outstanding Service and Recognition Award in 1999.
The National Optometry Hall of Fame selection process is determined by a committee consisting of representatives from the AAO, the AOA, the Association of Schools and Colleges of Optometry, the College of Optometrists in Vision Development, the National Optometric Association and Optometry Cares – The AOA Foundation.
Media Contact: Amber E. Hopkins Tingle, 212.938.5607, amber@sunyopt.edu