August 28, 2020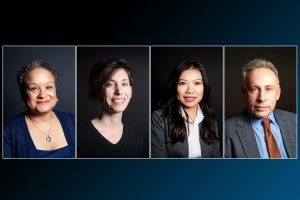 New York, NY—Four members of the State University of New York (SUNY) College of Optometry community have been recognized by the SUNY Board of Trustees with the 2020 Chancellor's Awards for Excellence in their respective areas of work.
Presented annually, the Chancellor's Awards recognize SUNY efforts of employees from across all 64 campuses for consistently superior professional achievement and encourage the ongoing pursuit of excellence. Awards are given in seven categories: Faculty Service, Librarianship, Professional Service, Scholarship and Creative Activities, Teaching,Adjunct Teaching, and Classified Service.
"Working together, SUNY College of Optometry faculty and staff strive each day to meet and exceed expectations for students, patients, and the community-at-large," said College President David A. Heath, OD, EdM. "This year's award recipients exemplify the unwavering dedication, pride, and commitment to our institution and the many people we serve. They are well deserving of this special recognition."
Chancellor's Award for Excellence in Scholarship and Creative Activities
Stewart Bloomfield, PhD, joined the College in 2013. He fulfills critical roles as Director of the Graduate Center for Vision Research and Associate Dean for Graduate Studies and Research. He also serves among the SUNY Vice Presidents for Research, a collaborative group of research leaders representing the many colleges across the SUNY system that meet regularly to discuss investigations and innovation at their campuses and to share information on best practices.
Bloomfield's ability to push beyond boundaries has helped advance approaches to optometric care, training, and investigation, including an outstanding record of internationally recognized research on retinal neurophysiology. Since 1988, his work on neuronal function in retina and glaucoma has received ongoing support from the NIH (National Institutes of Health), through the National Eye Institute, in addition to other grants, including those funded by the Glaucoma Research Foundation and the National Science Foundation. Bloomfield's lab has also published several papers that explore the cellular and molecular mechanism of ophthalmic diseases. His latest success is the October 2019 license agreement with Cambridge, UK-based biotech startup Connexin Therapeutics to develop and commercialize products that prevent blindness and vision loss in glaucoma patients.
The Chancellor's Award for Excellence in Scholarship and Creative Activities supports the pursuits foundational to sustaining the intellectual growth of SUNY institutions by recognizing consistently outstanding scholarly and creative productivity, conducted in addition to teaching, by SUNY's instructional faculty. Bloomfield offers more than 30 years of experience in research and graduate education.
"I am truly honored to be the recipient of the Chancellor's Award," expressed Bloomfield. "However, this award is a testament to the hard work of the many past and present students and postdoctoral fellows in my lab, the continued funding of my research by the National Eye Institute, and the support of my collaborators and colleagues at the College of Optometry."
Chancellor's Award for Excellence in Librarianship
A member of the SUNY College of Optometry family for nearly ten years, Digital and Technical Services Librarian, Jill Locascio, MLIS, MS, is responsible for acquisitions, electronic resources, discovery, and various library tasks in support of the College's teaching and clinical missions. She also maintains the library's website and manages the library's automated circulation system.
Offering a substantial background in several library technologies, Locascio has helped develop new and innovative ways to bring library materials and services to our users. The Chancellor's Award for Excellence in Librarianship recognizes consistently superior professional achievement in the field of librarianship.
"Serving the SUNY Optometry community has provided me with challenging and fulfilling opportunities for professional growth that have been rewarding in and of themselves," said Locascio. "Being recognized is a great honor which inspires me to continue to provide innovative library service to this vibrant community for years to come."
Chancellor's Award for Excellence in Professional Service
With 30 years of experience in the industry, Patricia Lambert always knew there was a place for her at SUNY Optometry. Before joining the College as a Clinic Manager in 2016, every time she walked past the building, she would say: "I will work there one day."
Fast-forward to 2020, Lambert remains steadfast in her commitment to the College and advancement of patient care for people of all walks of life as she oversees day-to-day operations of the Ocular Disease department, which includes assisting in the coordination of all fiscal functions for the office and streamlining front desk operations to increase efficiency. She also served as a member of the College's Diversity and Inclusion Master Plan committee. Her commitment to improving patients' lives is demonstrated through her highly engaged and empathetic approach to her work at the University Eye Center.
The Chancellor's Award for Excellence in Professional Service recognizes consistently superior professional achievement within and beyond the position.
"I am proud to work as part of a team of skilled professionals who value the work that we do, strive to positively impact the industry, and educate and prepare students to participate in this ever-evolving field," said Lambert. "I look forward to the continuation of my professional development journey, including developing the skills needed to succeed in this industry and effectuating change through effective communication practices."
Chancellor's Award for Excellence in Faculty Service
Tracy Nguyen, OD, PhD, joined SUNY College of Optometry in 2013 and offers more than 20 years of vision care and research experience. In her role as Associate Professor, she teaches didactic courses in the optometry and graduate program while also supervising students and residents in the primary care clinic.  Her research focuses on diseases of the cornea and ocular surface disorders such as dry eye and contact lens-related complications.
The Chancellor's Award for Excellence in Faculty Service recognizes the consistently superior service contributions of teaching faculty in a variety of venues.
"I'm honored to be receiving this prestigious award. It is heartwarming to be recognized and valued for my service to SUNY Optometry," said Nguyen. "I am now even more inspired to work harder to further SUNY's mission, vision and values."
For more information about the SUNY College of Optometry and the University Eye Center, please visit www.sunyopt.edu.
Organization Contact: Adrienne Stoller, communications@sunyopt.edu, 212-938-5600
About SUNY College of Optometry

Founded in 1971 and located in New York City, the State University of New York College of Optometry is a leader in education, research, and patient care, offering the Doctor of Optometry degree as well as MS and PhD degrees in vision science. The College conducts a robust program of basic, translational and clinical research and has 65 affiliated clinical training sites as well as an on-site clinic, the University Eye Center.  SUNY College of Optometry is regionally accredited by the Commission on Higher Education of the Middle States Association of Colleges and Secondary Schools; its four-year professional degree program and residency programs are accredited by the Accreditation Council on Optometric Education of the American Optometric Association. All classrooms, research facilities and the University Eye Center, which is one of the largest optometric outpatient facilities in the nation, are located on 42nd Street in midtown Manhattan. To learn more about SUNY College of Optometry, visit www.suny.edu.