See Politico New York's full article on SUNY Optometry's 2018 Diversity Hackathon
NEW YORK, October 2, 2018 – SUNY Optometry hosted its first-ever diversity hackathon on Friday, September 28. The event addressed the lack of diversity in optometry and sought answers to one question: How can SUNY Optometry increase the diversity of its student body?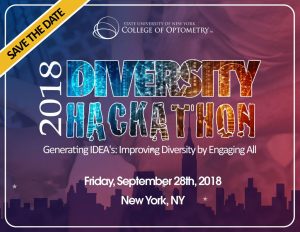 More than 70 diversity and inclusion experts from across the country gathered to seek solutions for recruiting and enrolling students from underrepresented groups.
"A hackathon is a sprint-like event during which professionals, including subject-matter experts, and students collaborate to challenge prior assumptions and create something new to solve a specific problem," says Dr. Guilherme Albieri, SUNY Optometry's chief diversity officer and vice president for student affairs. "The College will implement the top ideas from this event."
The attendees formed teams and composed proposals which were presented at the end of the day. The winning presentation was a collaborative effort by a team of professionals representing Stony Brook Social Welfare, Philadelphia College of Osteopathic Medicine, Fordham University and SUNY system. Their proposal recommended guaranteed admission for high performers at historically black colleges and universities, affordable housing options, flexibility in curricula for non-traditional students, advertising around inclusive environments, free or discounted public transportation passes and a more robust full-ride scholarship program.
The College's student affairs team will review and organize all proposals by themes to assess whether or not some of the ideas are feasible.
"When you have a problem or a challenge that is hard to crack or move forward, it's often embedded in institutional culture or practice," SUNY Optometry president David A. Heath said. He adds that a theme of
the College's 2018-2023 strategic plan
to better serve diverse communities. "There is a dearth and a real challenge to get doctors to practice in upstate and lower socioeconomic communities. The whole diversity goal is to have [the] workforce more reflective of the citizens they serve."
SUNY Optometry is one of 21 SUNY campuses operating programs under the Performance Investment Fund (PIF) to increase student access, completion and success rates. It is one of the few graduate programs in the PIF community of practice, making it a vital component for discovering new ways to diversify.
Guest speakers included Carl McCall, chairman of the SUNY Board of Trustees, Dr. Carlos Medina, vice chancellor and chief diversity officer for the SUNY system's Office of Diversity, Equity and Inclusion, and Tyler Farnsworth, managing director of August United, an influencer marketing agency.
For more information, visit www.sunyopt.edu/hackathon
Media Contact: Amber E. Hopkins Tingle, 212.938.5607, amber@sunyopt.edu