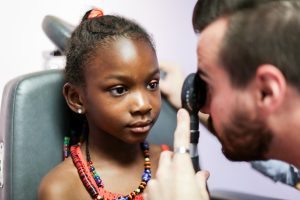 New York, NY—Commemorating 50 years of scholarship and service, SUNY College of Optometry launched the 50th Anniversary Luminary Speaker Series, an online forum featuring experts and advocates addressing various topics in eye care and vision health. The series, which will run through June 2022, is free and open to the public.
"We're pleased to offer programming to patients, students, educators, advocates, and health professionals that sheds light on the many ways our sight serves and safeguards our overall health and wellbeing," said David A. Heath, OD, president of SUNY Optometry. "We look forward to creating new connections through this series of topics and talks created to inform people of all walks of life."
The first installment of the speaker series launched on September 28th with "Seeing Through the Eyes of Children" featuring a panel discussion on the impact of vision on childhood development and learning.
CLICK HERE to watch Seeing Through the Eyes of Children
               "Literacy is the foundation of almost all education and probably the most important skill to have in the 21st century. This skill starts as a visual process," began moderator Viola Kanevsky, OD, president of the New York State Optometric Association and owner of Acuity NYC. "In classrooms around the world, visual inputs are involved around 70% of the time. Thus, when children have problems with their vision, they may not be able to succeed in school."
Joining Dr. Kanevsky were panelists Matthew Vaughn, OD, assistant clinical professor at SUNY Optometry and clinician at the University Eye Center specializing in pediatrics and care for children with special needs, and Mary Ho, OD, optometry and primary care advisor at The Fred Hollows Foundation, an organization with a mission to ensure access for all to high quality, affordable eye care.  The optometrists teamed up to respond to questions concerning signs and symptoms of vision problems, common eye conditions, the efficacy of vision screenings, and why and when children should have their first eye exam.
"A child should ideally have three eye exams by the time they're entering school," explained Dr. Vaughn, who pointed to the American Optometric Association's recommendation of routine eye exams for children starting at six to 12 months. "That's giving us an opportunity to pick up on conditions that are sometimes not caught in screenings."
"Studies show that sensitivity, or how well screenings pick up children [with a vision problem], is anything from 20 to 77 percent. That's quite a lot of children missed," said Dr. Ho. "It's definitely worth getting their eyes checked as soon as possible."
Please join us on November 10 at 7 p.m. for the next installment of the 50th Anniversary Luminary Speaker Series as we explore "Art and Visual Perception," featuring a discussion on style of trompe l'oeil (meaning fool of the eye) and how our visual system interprets this type work. 
For more information about SUNY Optometry, visit sunyopt.edu.
October 8, 2021
Organization contact: Adrienne Stoller, communications@sunyopt.edu, 212-938-5600
###
About SUNY Optometry
Founded in 1971 and located in New York City, the State University of New York College of Optometry is a leader in education, research, and patient care, offering the Doctor of Optometry degree as well as MS and PhD degrees in vision science. The College conducts a robust program of basic, translational and clinical research and has 65 affiliated clinical training sites as well as an on-site clinic, the University Eye Center.  SUNY Optometry is regionally accredited by the Commission on Higher Education of the Middle States Association of Colleges and Secondary Schools; its four-year professional degree program and residency programs are accredited by the Accreditation Council on Optometric Education of the American Optometric Association. All classrooms, research facilities and the University Eye Center, which is one of the largest optometric outpatient facilities in the nation, are located on 42nd Street in midtown Manhattan. To learn more about SUNY Optometry, visit www.sunyopt.edu.