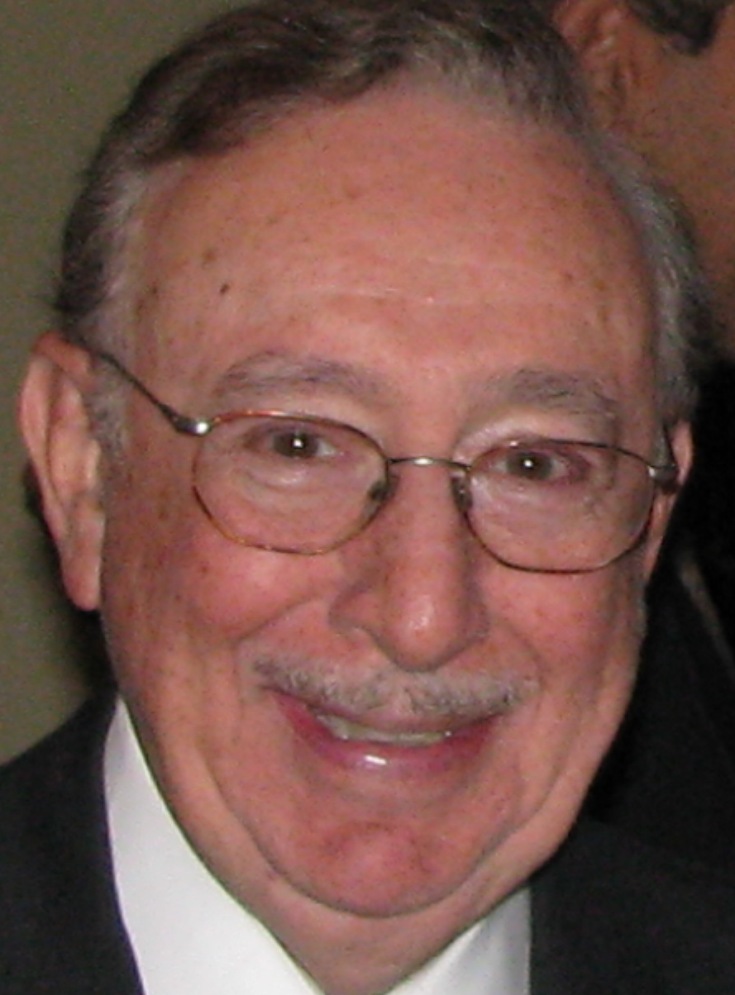 Businessman and benefactor was a strong supporter of New York city and state education
New York, NY—State University of New York (SUNY) College of Optometry and its foundation, the Optometric Center of New York (OCNY), mourns the passing of OCNY Trustee Emeritus Harold (Hal) Spielman on September 30, 2021. He was 94 years old.
A well-known New York philanthropist and advocate for education and healthcare, Mr. Spielman's connection with the College began as a close friend of SUNY Optometry Distinguished Professor Emeritus Nathan Flax, OD, the first chief of vision therapy at the College. Mr. Spielman joined the OCNY board in 1984 and served as board president for eight years during his trusteeship. His many contributions to scholarship, research, and patient care at the College earned him the distinguished Benjamin Franklin Medal.
In fact, Mr. Spielman's involvement with New York City and the state higher education system extends beyond the College to include work as a teaching fellow in art at his alma mater, City College of New York, where he earned a degree in sociology and established the multidisciplinary Spielman Social Science Lab at CCNY in 2007. He also served on the New York State governor's commission on graduate school education.
"Our hearts go out to Hal Spielman's many friends and family members, as we are deeply saddened by his passing. Hal's guidance, leadership, and generous spirit will be deeply missed," said Dawn Rigney, Vice President of Institutional Advancement and Executive Director of the OCNY. "We are honored that his legacy will continue through his annual scholarship and that future optometry students will have the privilege of seeing his philanthropic spirit in action."
A native of Canada and WW II US Army veteran, Mr. Spielman co-founded the international marketing and communications research company McCollum Spielman Worldwide (MSW) in 1968, retiring as chairman after 40 years of service. His extensive career includes as president of the Market Research Council, president of the Copy Research Council, research advisor to the Ad Council, and chair of multiple conferences for the American Marketing Association and Advertising Research Foundation. Following his retirement from MSW in 2008, his peers elected him to the Market Research Hall of Fame.
On the home front, Mr. Spielman gave back to his community of Sands Point (Long Island) through longstanding participation in town board and park commissions, including serving as a member of the Foundation Board of the Port Washington Public Library, where he led the renovation of the Harold & Jacqueline Spielman Children's Library.
October 21, 2021
Media contact: Adrienne Stoller, communications@sunyopt.edu, 212-938-5600
###
About SUNY Optometry
Founded in 1971 and located in New York City, the State University of New York College of Optometry is a leader in education, research, and patient care, offering the Doctor of Optometry degree as well as MS and PhD degrees in vision science. The College conducts a robust program of basic, translational and clinical research and has 65 affiliated clinical training sites as well as an on-site clinic, the University Eye Center. SUNY Optometry is regionally accredited by the Commission on Higher Education of the Middle States Association of Colleges and Secondary Schools; its four-year professional degree program and residency programs are accredited by the Accreditation Council on Optometric Education of the American Optometric Association. All classrooms, research facilities and the University Eye Center, which is one of the largest optometric outpatient facilities in the nation, are located on 42nd Street in midtown Manhattan. To learn more about SUNY Optometry, visit sunyopt.edu.