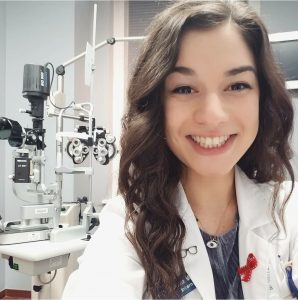 NEW YORK, N.Y. (May 19, 2020) — Ask Constadina Manettas to describe the perfect day, and it would include a visit to the museum: "I'm an enthusiast, it's the reason why NYC is my favorite city. I would go to at least one museum every weekend when I had time." Time has been tight as a busy student of optometry and as a public health advocate with a mission to educate and care for those in underserved communities. For Manettas, it's time well spent. "Everyone deserves the best vision possible." Her passion and drive to ensure a reality for all in which healthcare is a right and not a privilege has earned her the Marchon Award for Excellence in Practice Management and the Dr. Benjamin Freed Memorial Award. She is also recognized for outreach and advocacy by the Readers Digest Partners for Sight, a foundation dedicated to improving the lives of blind and visually impaired people.  Manettas explains why doctoring is not just about tending to the health issue—it is about caring for the whole person.  
Degree: Doctor of Optometry
Undergraduate Education: University of Michigan
Hometown:  Canton, Michigan
What draws you to optometry? 
The belief that improving someone's vision will increase their quality of life no matter their current situation.
What is your fondest memory of your time at the College? 
Being a member and serving as President of the Public Health Club (Student Chapter of American Public Health Association). I enjoyed getting the school involved and excited about public health through school-wide events such as "Dining in the Dark." Additionally, traveling to Jamaica to volunteer with the Eye Health Institute with some members of the SUNY community impacted me tremendously in more ways than I can put into words. The trip allowed me to bond and work with a beautiful team, including optometrists, ophthalmologists, and opticians. Using a shipping container converted to a solar-powered exam lane, we were able to give comprehensive eye exams –it truly exemplified: "where there is a will, there's a way". I also learned from the people of Jamaica, who consistently demonstrated pure joy in simple human interaction.
How did your classmates shape your experience? 
My classmates inspired me, as a whole, in the way everyone was so willing to share time and resources to ensure we all succeeded. More specifically, my roommates and I created an incredible bond in sticking together and supporting each other through the ups and downs of optometry school.
What was your favorite course? 
"Nutrition Counseling in an Optometric Practice" with Dr. Jerry Rapp. It was a small elective class that inspired me to find ways to incorporate nutrition as a way to provide concrete advice patients can use to benefit their eye health and general well-being.
What are your post-graduation plans? 
I hope to find a couple of part-time optometry jobs that allow me to work in a variety of settings. I also hope to continue to find ways to volunteer and eventually develop my career with a focus on incorporating public health.
What advice would you give new students at the College? 
Be yourself and be enthusiastic about what you believe in, and you will find your place in this amazing SUNY College of Optometry community.