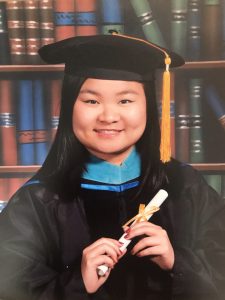 NEW YORK, N.Y. (May 19, 2020) —Growing up, Linh Chieu knew she didn't want to be an ophthalmologist after seeing her mother's cataract surgery. Ten years later, she's ready to graduate as a doctor of optometry with hands not graceful enough for scalpels but strong enough to insert contact lenses into her patients' eyes. She knew she had chosen the right profession after seeing her first patient as a first-year student at a screening. Recipient of the GP Lens Institute Clinical Excellence Award for Outstanding Clinical Proficiency in Contact Lenses, Chieu aspires to use her bilingual skills to bridge the gap for Chinese-Americans seeking healthcare.
Degree: Doctor of Optometry
Hometown: Pennsauken, NJ
Undergraduate Education: Rutgers University School of Engineering – Biomedical Engineering, Class of 2016
What draws you to optometry?
The personal interactions with the patients. From joining into small prayers and hugs with patients to holding conversations about life-changing decisions, these are all memories that have touched me beyond a professional level.
What is your fondest memory of your time at the College? 
The long hours spent in the clinic then being rewarded by food quests with a group of friends. The small victory of overcoming another mundane (or overhauled) clinic day was always celebrated with laughter, long talks, and of course, bubble tea.
How did your classmates shape your experience? 
They were my outlet, my Dr. Google, and my motivation for bad decisions. I'm lucky to have so many of them join in on the fun, tears, and laughter. These experiences are memories I'll treasure for a lifetime.
What was your favorite course? 
OABP: learning about the anatomy of the eye helped me envision myself as an optometrist rather than sitting through an extension of my college courses.
What are your post-graduation plans? 
I'm excited to be spending another year in the Big Apple as SUNY's next Cornea and Contact Lens resident. I'm looking forward to continuing to learn from my mentors and peers.
What advice would you give new students at the College?
Like a contact lens, be a sponge. Soak in all the good and all the bad during your time at SUNY! When you leave this institution, let it all shape you into the best physician you can be!