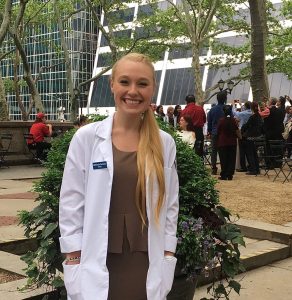 NEW YORK, N.Y. (May 21, 2020) —McKenzie Symons grew up in upstate New York thinking she was going to be a professional ballerina until many optometrists in her life convinced her otherwise. While shadowing before optometry school, she observed Dr. Robert Fox, who primarily does vision therapy. At that time, she had no idea of what vision therapy was but was immediately drawn to it. Her passion for vision therapy continued to grow during her time at SUNY College of Optometry, where she was inspired by all the doctors she worked with during her Vision Rehab externship and her time as an extern at the practice of Dr. Barry Tannen, SUNY Optometry professor and president of the College of Optometrists in Vision Development. Recipient of the Dr. Frederick W. Brock Memorial Award for Outstanding Clinical Performance in Vision Training, McKenzie looks forward to working in a vision therapy-based practice back home with one of her optometric mentors.
Degree: Doctor of Optometry
Hometown: Queensbury, NY
Undergraduate Education: State University of New York, Geneseo
What draws you to optometry? 
I was really inspired by my optometrist growing up, who happened to be my next-door neighbor. From an early age, she always took extra time to show me how things worked and all the cool things you can do in the profession.
What is your fondest memory of your time at the College? 
All of my fondest memories come from times spent with my amazing friends. Whether it be late night charting sessions or times spent celebrating outside of school, I have made so many lasting memories that I will carry with me.
How did your classmates shape your experience? 
My classmates were all so amazing. There was never a shortage of smiles and laughs, even in some of the toughest times. I am really grateful for everyone. 
What was your favorite course? 
My favorite class was Anomalies of Visual Sensorimotor Function.
What are your post-graduation plans? 
After graduation, I will be working with Dr. Robert Fox at his vision therapy practice in upstate NY. This has been a dream of mine since shadowing Dr. Fox before I began optometry school. 
What advice would you give new students at the College? 
Try not to sweat the small things that do not go as well as you would have hoped. The little things are not a reflection of the kind of doctor you will be in the future.