CHANCELLOR'S AWARD FOR STUDENT EXCELLENCE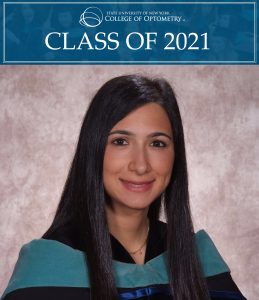 Long Island-native Melissa Levine combined her training at the College with work at a specialty contact lens practice to help shape her career path in vision health. Her four years of study also included time spent as a research assistant with the Clinical Vision Research Center at SUNY Optometry, as well as volunteer work as an active participant and executive board member of the Student Volunteer Optometric Services to Humanity (SVOSH) club. Recipient of the Chancellor's Award for Academic Excellence, Levine reflects on her well rounded and purposeful journey to become a new doctor of optometry.
Degree: Doctor of Optometry
Hometown: Great Neck, New York
Undergraduate Education: Binghamton University, B.S. Integrative Neuroscience and a minor in Italian.
What draws you to optometry?
The ability to improve someone's quality of life through a simple pair of glasses or contact lenses and instantly see that positive change is what draws me to optometry. I also enjoy being challenged to think clinically on the spot and working with new technologies to provide the best patient care.
What is your fondest memory of your time at the College?
My fondest memory is my SVOSH trip to Grenada that I attended during the summer between my second and third year of optometry school. Alongside a team of VOSH-North Carolina doctors, Rotary volunteers, and nine other SUNY students, I helped provide eye care to over 1,000 underprivileged people. This humbling experience reminded me how rewarding the career of optometry can be and how privileged we are to be in a position to help so many people. I plan to continue to volunteer in the future and hopefully attend more mission trips like this one.
How did your classmates shape your experience?
Everyone was always willing to help each other and share notes to make sure we all would succeed. I wouldn't have survived the long study hours on the second floor without my friends' help to get through the hard times!
What was your favorite course?
My favorite course was probably Ocular Disease 2. It was the first time I felt I could connect my didactic knowledge to what I saw in the clinic. Taking so many courses during the first and second year can be overwhelming and hard to see the overall big picture, but this course made it easy to tie everything together in a real patient setting.
What are your post-graduation plans?
I am so fortunate to be pursuing a Cornea/Contact Lens Residency here at SUNY Optometry! I can't wait to spend another year improving my specialty contact lens skills and learning from amazing doctors.
What advice would you give new students at the College?
Take advantage of all the opportunities SUNY Optometry has to offer, even if it means stepping out of your comfort zone. Join different clubs, take on leadership opportunities, attend educational meetings, and go on a mission trip. The four years can somehow fly by, so you want to be sure to try new things and maximize your experience!