NYSOA AUXILIARY AWARD FOR OUTSTANDING SERVICE TO THE CLASS OF 2021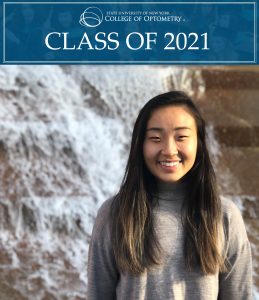 Growing up as an only child, California-native Sherry Shang says that her classmates often evolved into good friends and chosen family. It is a special bond that describes the close-knit relationships she developed with her peers at SUNY Optometry. "I'm so grateful to have experienced all the trials and tribulations of optometry school with my classmates. Because of them, I constantly strive to do my best to improve and optimize our experience at the College—just as my classmates motivate me to be the best version of myself!" For her unwavering support of fellow students and contributions to the campus community in her role as Class President, Shang is honored with the NYSOA AUXILIARY AWARD for Outstanding Service to the Class of 2021.
Degree: Doctor of Optometry
Hometown: Rowland Heights, California
Undergraduate Education: University of California, Los Angeles (UCLA), B.S. in Biology
What draws you to optometry?
I appreciate how optometry truly allows us to care for patients as people and not just as diseases. There are so many opportunities to get to know our patients and build connections with them while also helping them achieve their best possible vision!
What is your fondest memory of your time at the College?
Looking back, one of the most memorable days was our White Coat Ceremony. It was the last time the Class of 2021 was able to be together and celebrate our achievements with our friends and family! I loved working with Dr. Michael McGovern and his incredible team in planning the event. Seeing it all come together was special.
How did your classmates shape your experience?
I feel so fortunate to have been a part of such a supportive, thoughtful, and intelligent group of individuals I get to call my classmates and friends! We have laughed and cried and laughed until we cried throughout this journey. I am so grateful our collective struggles at SUNY Optometry brought us together!
What was your favorite course?
I enjoyed the Public Health course with Dr. Mordachai Soroka because it was a great introduction to the complex and confusing world of insurance. Nobody wants to talk about insurance, but we all have to deal with it! Using the knowledge from Dr. Soroka's class, I hope to help my future patients and my parents navigate through the challenges that insurance companies may pose.
What are your post-graduation plans?
I am pursuing a cornea and contact lens residency at Southern California College of Optometry.
What advice would you give new students at the College?
Someone once told me that sometimes everything you ever wanted is just one step outside your comfort zone. This statement couldn't have been more right, so I encourage everyone to take risks once in a while and don't be afraid to say "yes"!