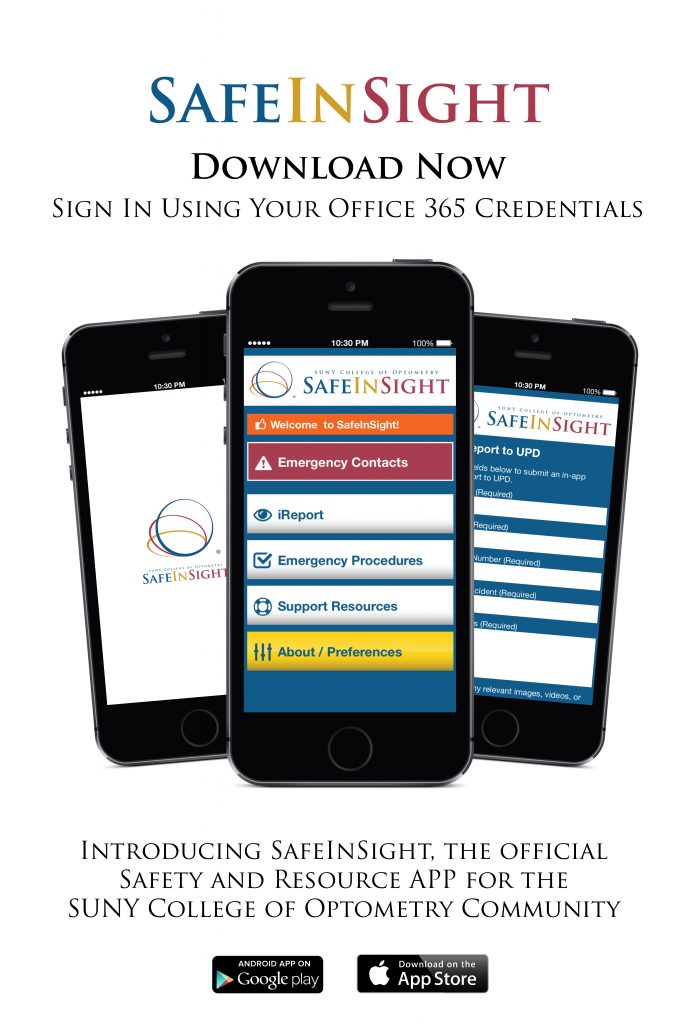 SafeInSight is the official safety and resource app of SUNY College of Optometry. The College developed this unique app to provide faculty, staff, and students with information about emergency procedures, emergency contacts, reporting options, and support resources.
SafeInSight features include:
Emergency Contacts: This will provide users with the contact information to the appropriate department at SUNY College of Optometry in case of an emergency or a non-emergency concern.
iReport: provides a platform to report safety or security concern to University Police Department and to notify the appropriate department at the College regarding certain service requests. In addition, the "I'm OK" button provides a resource for users to self-report to University Police that they are safe after an incident or evacuation
Emergency Procedures: Users can learn what to do in case of an emergency on or off campus. This platform provides valuable information about several emergencies and as such enabling members of the college community to raise their levels of readiness.
Support Resources: here users can access information about important internal and external resources available to members of the College Community in one convenient app.
For questions related to the App content, downloading the App, or to provide a feedback, please send an email to Dapo Adurogbola – dadurog@sunyopt.edu, or Gaea Austin – gaustin@sunyopt.edu.
Download today and ensure that you're prepared in the event of an emergency.