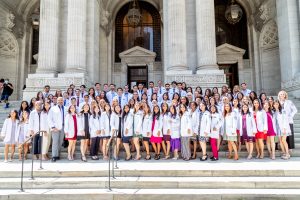 New York, NY—Following over a year of remote lectures and small group pre-clinical practice, 95 members of the State University of New York (SUNY) College of Optometry Class of 2023 came together to celebrate a major milestone on the way to becoming eye doctors during a White Coat Ceremony hosted on campus and broadcast virtually on Friday, July 23, 2021.
A traditional rite of passage, the White Coat Ceremony symbolizes the transition of third-year optometric students from classes and coursework to patient care in the clinic for the next two years of their training. This year the proceedings were conducted as a hybrid ceremony with students, lead faculty and administrators in-person for the event while nearly 400 faculty, staff, family, and friends participated online.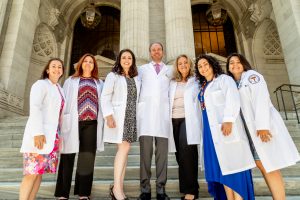 Beginning with opening remarks from SUNY Optometry President, Dr. David A. Heath, ceremony speakers included: Dr. Michael McGovern, '97, chief medical officer of the University Eye Center; Dr. Suresh Viswanathan, chair, department of biological and vision sciences; Dr. Richard Madonna, '85, chair, department of clinical education; Dr. Richard Soden,'79, president, OCNY Board of Trustees; Dr. David Troilo, vice president and dean for academic affairs; and Liduvina Martinez-Gonzalez, FACHE, executive director and vice president for clinical administration. 
Travis Pfeifer, president of the Class of 2023, also spoke to his classmates. "This is the first time [our class] has been together in a year and a half," said Pfeifer, who highlighted his classmates' collective resilience and flexibility in facing change and challenge. "Our journey here at SUNY hasn't been what we expected, but I'm happy to share it all with you. I can't wait to see what the next few years have in store for us."
During the ceremony, members of the Class of 2023 were individually draped in their white coats by University Eye Center clinic area chiefs, including Dr. Jennifer Gould, Dr. Deborah Amster, Dr. Daniella Rutner, Dr. Diane Calderon-Villanueva, Dr. Amy Steinway, and Dr. Eva Duchnowski. Led by students Hira Alam and Jacob Rosenberg, the coating ceremony was followed by reciting "The Optometric Oath"—a statement recognizing and affirming the values and ethical responsibilities to patients, colleagues, fellow health providers and the public the students will serve.
"This past year, you have demonstrated strength, courage, resilience, and compassion unmatched in previous years. You inspire me to stay strong," said Dr. Teresa Lowe, chosen by students as the 2021 Distinguished Faculty Member. "Trust me…connecting with your patients is the secret to loving what you do each and every day."
The SUNY Optometry Alumni Association generously provided the white coats noting their support of the students through their journey to become optometrists.
July 30, 2021
Organization contact: Adrienne Stoller, communications@sunyopt.edu, 212-938-5600
###
About SUNY Optometry
Founded in 1971 and located in New York City, the State University of New York College of Optometry is a leader in education, research, and patient care, offering the Doctor of Optometry degree as well as MS and PhD degrees in vision science. The College conducts a robust program of basic, translational and clinical research and has 65 affiliated clinical training sites as well as an on-site clinic, the University Eye Center.  SUNY Optometry is regionally accredited by the Commission on Higher Education of the Middle States Association of Colleges and Secondary Schools; its four-year professional degree program and residency programs are accredited by the Accreditation Council on Optometric Education of the American Optometric Association. All classrooms, research facilities and the University Eye Center, which is one of the largest optometric outpatient facilities in the nation, are located on 42nd Street in midtown Manhattan. To learn more about SUNY Optometry, visit www.sunyopt.edu.