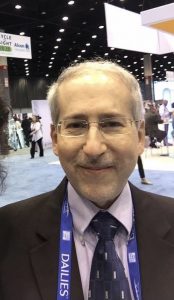 With great sadness, SUNY College of Optometry shares the passing of nationally known optometric clinician and educator, Michael L. Fischer OD, FAAO, class of 1983, following a battle with cancer. He was 64 years old.
A resident of New Hyde Park, New York, Dr. Fischer received his undergraduate degree from the University of Albany and became a SUNY College of Optometry student in 1979. Following graduation, he continued his training at the College with a one-year fellowship in ocular disease. He then assumed a position as an assistant clinical professor, advancing to associate professor, from 1984-1992. 
While at the College, Dr. Fischer imparted his diverse talents as a clinician, administrator, and educator to hundreds of future doctors and leaders in optometry like professor and chair of SUNY Optometry's Department of Clinical Education, Dr. Richard Madonna. 
"Mike was two years ahead of me at SUNY Optometry. He was one of my first upperclassmen friends. Besides our friendship, he served as an early role model for me," recalls Dr. Madonna, '85, director of the Office of Continuing Professional Education. "He was one of the people who inspired me to become a clinician-educator." 
Serving as co-chief and later as chief of the Primary Care Service at the University Eye Center, Dr. Fischer was instrumental in shepherding the College through a period of rapid change in optometric practice at that time, adds Dr. Madonna. His work involved helping patients of all ages with visual disabilities and vision loss. In fact, Dr. Fischer's contributions were pivotal in developing Low Vision Rehabilitation curricula in the training of professionals worldwide.
"I recall that he spent a lot of time with special needs children, particularly those who were legally blind," says SUNY Optometry faculty member Dr. Richard Soden, '79, director of health care development and board president of the Optometric Center of New York. "He was dedicated to improving the quality of life for patients and their families."
After SUNY Optometry, Dr. Fischer joined Lighthouse International as director of Low Vision Services and later the Northport VA Medical Center as chief of the Optometric Services. A Fellow of the American Academy of Optometry and author or co-author of over 24 publications, he served as an advisor to many organizations and was on the Board of Directors of the Guide Dog Foundation. All fulfilled while helping patients and educating students, residents, and colleagues abroad and close to home, including at SUNY Optometry. 
"The College and the profession were lucky to have him continue to educate our students and practicing optometrists till the end of his career," states Dr. Madonna. "He will be greatly missed."
For more information and stories about SUNY College of Optometry alumni, please visit www.sunyopt.edu.
Organization contact: Adrienne Stoller, communications@sunyopt.edu, 212-938-5600
###
About SUNY Optometry
Founded in 1971 and located in New York City, the State University of New York College of Optometry is a leader in education, research, and patient care, offering the Doctor of Optometry degree as well as MS and PhD degrees in vision science. The College conducts a robust program of basic, translational, and clinical research and has 65 affiliated clinical training sites as well as an on-site clinic, the University Eye Center. SUNY Optometry is regionally accredited by the Commission on Higher Education of the Middle States Association of Colleges and Secondary Schools; its four-year professional degree program and residency programs are accredited by the Accreditation Council on Optometric Education of the American Optometric Association. All classrooms, research facilities and the University Eye Center, which is one of the largest optometric outpatient facilities in the nation, are located on 42nd Street in midtown Manhattan. To learn more about SUNY Optometry, visit www.sunyopt.edu