After more than sixteen years of leadership, Dr. David A. Heath announced his intention to retire as President of SUNY College of Optometry at the conclusion of the 2023-2024 academic year. In the announcement made late Wednesday to members of the College Council, SUNY College of Optometry Foundation Board, faculty and staff, Dr. Heath expressed gratitude and pride for what the community has accomplished during his tenure.
"In my letter of application, I stated my belief that the College is rich with intellectual talent, dedicated to its educational, research, and patient care missions, and has tremendous growth potential as an international leader advancing eye and vision care. That statement has never been truer than it is today. However, I believe it is time for the College to seek new leadership and bring in fresh energy to support its continued growth and commitment to excellence in optometric education and the profession."
As the third president, Dr. Heath assumed the role of leading SUNY College of Optometry as its president in June 2007. Under his leadership, Dr. Heath led the college through a series of strategic initiatives including expanding enrollment by 30%, growing the Residency Program from 27 to 43 positions, building the research enterprise to $4.0M annually in extramural funding, and initiated several collaborations to ensure value-added opportunities for students. Additionally, he has been a champion for increasing diversity and inclusion among the SUNY Optometry community including supporting recognized programs such as SUNY Optometry Eye Care Camp, CSTEP, Race in Optometry, and the Diversity and Inclusion Master Plan.
The campus has seen a tremendous amount of renovation providing students with state-of-the-art teaching, research, and patient care facilities. Focusing on service to the community, over 250,000 patient visits are conducted each year by faculty, students and residents across nearly 100 partner sites and in the University Eye Center.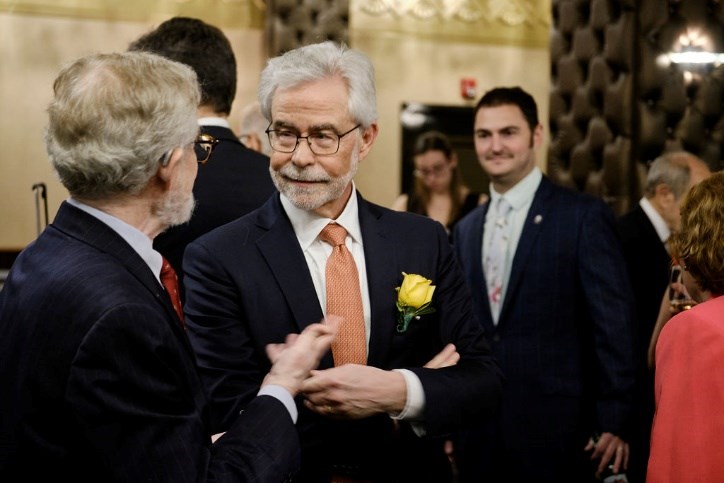 SUNY Chancellor John B. King, Jr. said, "Dr. Heath has been a great partner for SUNY and for all those in the medical field. He led the college in a period of growth as his team of faculty and staff expanded academic programs and research opportunities. He has done so much to encourage prospective students in the New York City area—particularly students and individuals from underrepresented and low-income communities—to consider a career in optometry. Dr. Heath also has led the college's partnership with Upstate Medical to prepare optometrists in the central New York State region and increase diversity in the field. He has been the College of Optometry's biggest champion and advocate, and will be dearly missed. On behalf of the SUNY system, I look forward to working with Dr. Heath as he completes his term, and I wish him all the best after his presidency."
Dr. Heath has also significantly contributed to optometric education and the profession beyond the campus. He has served as the president of the Association of Schools and Colleges of Optometry as well as a member of their Executive Committee; participated as an active member for several American Optometric Association committees; and was a founding member of the Board of Directors for the American Board of Optometry (ABO) from 2009-2015. His work spans the globe through over ninety scholarly publications and/or presentations, extensive work with Wenzhou Medical University to increase the quantity and quality of primary eye care providers in China, and a number of awards recognizing his scholarship and contributions.
Dr. Heath will continue in his role through June 30, 2024. The SUNY College of Optometry's College Council and the State University of New York Office of the Chancellor will establish a timeline and process for the recruitment and appointment of the College's fourth president.
Media Contact: Dawn Rigney, communications@sunyopt.edu
FOR IMMEDIATE RELEASE: Thursday, September 21, 2023 (4:00 pm)
###
About SUNY Optometry
Founded in 1971 and located in New York City, the State University of New York College of Optometry is a leader in education, research, and patient care, offering the Doctor of Optometry degree as well as MS and PhD degrees in vision science. The College conducts a robust program of basic, translational and clinical research and has 65 affiliated clinical training sites as well as an on-site clinic, the University Eye Center. SUNY Optometry is regionally accredited by the Commission on Higher Education of the Middle States Association of Colleges and Secondary Schools; its four-year professional degree program and residency programs are accredited by the Accreditation Council on Optometric Education of the American Optometric Association. All classrooms, research facilities and the University Eye Center, which is one of the largest optometric outpatient facilities in the nation, are located on 42nd Street in midtown Manhattan. To learn more about SUNY Optometry, visit www.sunyopt.edu.