SUNY Optometry sees spike in applications for a spot in the College's 50th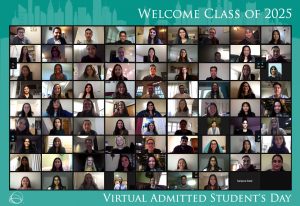 New York, NY— Nearly 100 students from regions close to home and worldwide participated in a virtual version of Admitted Students Day at the State University of New York (SUNY) College of Optometry held in April, a month that marks the start of a year-long celebration of the College's golden anniversary.  
Despite the challenges for students and schools resulting from the unprecedented health crisis, SUNY Optometry experienced a three percent jump in applications compared to last year. In fact, half of the admitted class of 2025 comprises students outside of New York State and the country.
"Admitted Students Day brought together students from thro ughout the nation, continent, and globe. They spanned locally from New York City all the way to California. We had candidates from Toronto to Vancouver in Canada as well as China," said Christian Alberto, director of admissions at SUNY Optometry. He and the faculty on the College admissions committee agree that the 50th entering class has proven to be commendably resilient, flexible, and committed to rising above any challenge to achieve their goals. "The students embody traits and qualities that will complement the future of eye and vision care, especially as they join the field at such a pivotal moment."
Because the pandemic has created an added layer of stress and pressure for prospective optometry students, the OptomCAS application (a web-based service of the Association of Schools and Colleges of Optometry (ASCO) that allows applicants to apply to multiple schools and colleges of optometry) collected information about how the pandemic has impacted applicants in their personal, professional, and academic pursuits.  
"This information allowed us to modify some of the admissions requirements to ensure applicants' needs were met during these unprecedented times," explained Alberto. "We expect this will remain for years to come as we continue to navigate these conditions and their aftermath."
The SUNY Optometry application process leading up to Admitted Students Day featured a comprehensive Interview Day Program, which aimed to provide each applicant with holistic insight into what distinguishes the SUNY Optometry program. Although online, interviews at SUNY Optometry were carefully tailored and personalized for applicants, including small group breakout sessions featuring a virtual campus tour, a day in the life of a student conversation, a life in NYC presentation, and a student life introduction led by current student ambassadors. Applicants were also able to schedule time following the interview to speak with faculty who served as a resource for questions and guidance.
"Ultimately, the virtual experience allowed us to expand our access to applicants, having interviewed 10% more candidates than the previous admissions cycle, the highest amount of the past five years," said Alberto.
It's a shift in the process that has proven advantageous for students like Raleigh, North Carolina resident Emma Goodwin whose virtual experience of SUNY Optometry left her impressed with the College's comprehensive academic and professional programming and cohesive campus community.
"I found that online interviews and such allowed me to take less time off from work and saved on travel expenses. Interviewing in my own space was less stressful as well," said Goodwin, a 2019 graduate of the University of North Carolina who took a gap year to learn more about the optometric profession by gaining hands-on experience as an optometric technician. "As a student applying from out of state, it has been difficult not being able to see schools in person, but I know based on my interview and information from SUNY Optometry that I chose the right place for me."
The virtually held Admitted Students Day at SUNY Optometry kicked off with talks by College President Dr. David A. Heath and other key leaders, including Academic Dean and Vice President for Academic Affairs, Dr. David Troilo, and Vice President for Student Affairs and Chief Diversity Office, Dr. Guilherme Albieri. Their address to students was followed by an interactive discussion about the school's curriculum, housing, and other aspects of campus life led by faculty and current students. The virtual gathering also featured small-group breakout sessions based on shared interests to encourage a sense of camaraderie, connection, and fun. In addition, social media platforms like Instagram and Facebook serve as invaluable tools for SUNY College of Optometry admitted students to interact with classmates, stay informed about College news and events, and engage with the entire College community.
"As someone passionate about the profession, I was excited to learn about ways I can personalize my program as a student at SUNY Optometry. I also received a lot of helpful information about student life and housing," said Goodwin about Admitted Students Day. "Through the [College] Instagram, I happened upon a student from North Carolina who shared her SUNY Optometry experience on the platform. I also found my roommate through the new student Facebook group, which has helped me get to know many people. I am very much looking forward to living in a vibrant city and exploring the field of optometry at SUNY."
The SUNY Optometry Office of Student Affairs, Admissions, and larger campus community plan to engage incoming students throughout the summer starting in May with "Webinar Wednesdays," a monthly online series covering different topics of the new student transition leading up to new student orientation in August.
For more information about SUNY College of Optometry student life and admissions, visit www.sunyopt.edu/explore.
April 29, 2021

Organization Contact: Adrienne Stoller, communications@sunyopt.edu, 212-938-5600
###
About SUNY College of Optometry

Founded in 1971 and located in New York City, the State University of New York College of Optometry is a leader in education, research, and patient care, offering the Doctor of Optometry degree as well as MS and PhD degrees in vision science. The College conducts a robust program of basic, translational and clinical research and has 65 affiliated clinical training sites as well as an on-site clinic, the University Eye Center.  SUNY College of Optometry is regionally accredited by the Commission on Higher Education of the Middle States Association of Colleges and Secondary Schools; its four-year professional degree program and residency programs are accredited by the Accreditation Council on Optometric Education of the American Optometric Association. All classrooms, research facilities and the University Eye Center, which is one of the largest optometric outpatient facilities in the nation, are located on 42nd Street in midtown Manhattan. To learn more about SUNY College of Optometry, visit www.suny.edu.