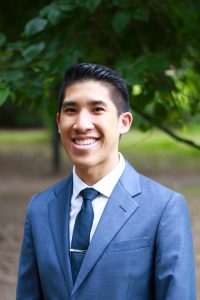 Soney Siriphone Is Making Eye Care Accessible to Those Who Need It Most
The supervising optometrist at Community Healthcare Network and adjunct assistant clinical professor at the College is using his Eye Mobile to help patients and students.
There are many places to practice the art and science of optometry, including hospitals, clinics and private practices. But Soney Siriphone OD ('16) spends his days in a place most would never consider: a van. As the supervising optometrist at Community Healthcare Network (CHN) and adjunct assistant clinical professorat SUNY College of Optometry, Siriphone manages the Eye Mobile, a van where he has been seeing patients outside CHN's healthcare centers in Brooklyn, Queens, Manhattan and the Bronx since January 2019.
"The Eye Mobile, as we have come to call it, is the culmination of efforts by many amazing people over the last few years. This past year, with the help of the College, Community Healthcare Network obtained enough funding to bring the concept to life to provide eye care to the underserved communities throughout four of the five boroughs of New York City," Siriphone says. Patients who board the van receive primary eye care services, with an emphasis on the diagnosis and management of ocular disease, including glaucoma, dry eye, macular degeneration and diabetic retinopathy.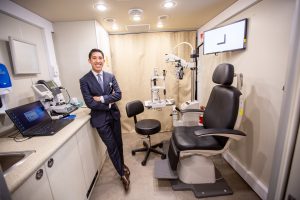 "Eye care is a crucial part of healthcare, and we are excited to provide this service for the first time," Siriphone explains. "Previously, patients were referred to outside providers, and many of them were falling through the cracks and not making it to appointments. Travel and cost of care are large contributing factors, and by providing affordable care at the clinics where they normally go, we can eliminate these barriers to eye care."
The initiative also benefits the College community. "This partnership provides students an opportunity to spend part of their fourth-year clinical rotations on board the Eye Mobile. Students can look forward to an integrative model of healthcare in a non-conventional mode of practice," says the San Diego-native. "As we rotate from location to location, they will also find that the needs of each community can be very different. I believe that these diverse experiences allow students the chance to become well versed in adapting to any clinical situation."
Thomas A. Wong, OD, director of the College's clinical externship program, says the Eye Mobile makes the school "an important partner in a large integrated healthcare delivery system providing optometric services to many uninsured patients." He also says that the initiative couldn't be in better hands. "Dr. Siriphone is an outstanding optometrist, a compassionate doctor and an insightful diagnostician. It is a pleasure working with him. His leadership and strong organizational skills make him an ideal person to be our site director at the mobile eye van," he says.
But Siriphone's younger self had no idea he'd end up here. "As a child, I wanted to be a chef so I would be able to make anything I wanted to eat and cook large meals for my friends and family," he says. Optometry didn't present itself as a career option until his undergraduate years at the University of California, Berkeley. "I was a research apprentice in a vision science lab at the UC Berkeley College of Optometry, and I helped co-instruct an anatomy lab with an optometry student. My experience in the lab and working alongside that student influenced me to explore the clinical side of optometry. I was employed at a private practice shortly after graduating and shortly thereafter applied to optometry school," he says.
After a residency at the VA Hudson Valley Health Care System—"one of my proudest professional accomplishments," he says—and several optometrist positions, Siriphone found his way back to the College community. His current role makes good use of what he calls the most important lesson he's learned so far in his career, "No two patients are the same, even though they may have the same conditions. Social, economic and personal considerations need to be considered in the care and management for each patient in order to empower them to take charge of their health," he says.
When he's not empowering his patients, Siriphone likes to take mind-clearing runs and eat well. "I like finding new places to dine, traveling and exploring the city. I'm an adventurous eater and I feel traveling and eating new things helps me to understand other cultures," he says.