According to the American Optometric Association, an estimated 45 million Americans of all ages wear contacts lenses, including infants. If you're among the many considering contacts, take time to learn why and how contact lenses can serve your sight from SUNY College of Optometry's cornea and contact lens expert, David Libassi, OD.
Contacts at Work
Contact lenses can help correct a range of vision problems from far- and near-sightedness to astigmatism. Most contacts are made of soft, flexible material and usually disposable lasting for one day to up to one month. When defining the contact lens wearer, says Dr. Libassi, patients fall into two major categories: cosmetic and medically necessary.
Cosmetic wearers are defined as people who can see equally well in glasses but seek more vision correction options. Benefits include improvement in physical appearance and improved functionality.
"Aside from improved appearance, patients can achieve a wider field of vision than with a pair of glasses," explains Associate Clinical Professor Dr. Libassi, who has worked with patients and students for nearly 40 years at the College's University Eye Center. "Contacts are also recommended for people with active lifestyles and individuals playing sports, like tennis or golf, where wearing a frame may be hazardous or cumbersome."
Medically necessary contact lens correction includes patients with improved quality and level of visual acuity (clarity or sharpness of vision) through a contact lens not achieved with spectacles.
"These are individuals who have relatively high corrections where glasses have a potential to minimize or reduce the size of objects they're looking at and those who find the weight of a high-correction spectacle to be challenging to keep on the face," says Dr. Libassi. "There is also a group of patients who have a variety of ocular diseases for which wearing a medically necessary therapeutic contact lens provides much-improved acuity over glasses due to the disease process."
A therapeutic contact lens can be helpful for conditions like keratoconus, a genetically inherited, potentially progressive distortion of the cornea that appears at puberty and does not naturally stabilize until the mid-40s.
"For these individuals, life between adolescence and mid-life can be a series of challenges that can affect performance in school, work, and ability to get a driver's license," says Dr. Libassi. "We see patients with this condition at all levels of progression at the University Eye Center and can provide improved correction in their visual acuity through a rigid style contact lens which can minimize challenges and make a significant difference in quality of life."
Contacts Through the Ages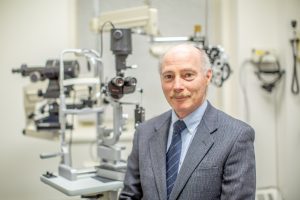 From youth to seniors, Dr. Libassi says there is no age limit for wearing contacts. In fact, contacts are worn by approximately 4 million children under the age of 18 in the US—a number that includes babies born with eye conditions like congenital cataracts.
"Surgery is performed to remove the cataract in one or both eyes in the first 3 or 4 weeks of life. We then see the child for contact lens fitting and care by age 6 or 7 weeks," explains Dr. Libassi. "Contacts can help the child to meet and achieve developmental milestones. At the Center, we see many of these patients throughout their lives, including children of their own born with the same condition."
Dr. Libassi adds that therapeutic contact lenses are used in children as young as 6 or 7 to help slow myopia progression or nearsightedness, a growing problem in children throughout our nation and worldwide. When considering contacts for kids for either therapeutic or cosmetic reasons, including sports play, it often comes down to maturity, motivation, readiness, and parental support.
"It is critical to ensure compliance and commitment to the process of wearing contacts, including healthy hygiene such as handwashing before contact insertion and proper cleaning of the lenses."
Contact Caveats
When considering contacts for yourself or a family member, Dr. Libassi encourages patients to be informed and carefully weigh the risks versus the reward of better vision with contacts.
For example, contact lenses are made from different materials, which may be problematic for some wearers. It is essential for both the provider and patient to understand the advantages and disadvantages of the available lenses.
"We educate our patients that contacts lenses do put them at greater risk for a red-eye event than someone who does not wear contacts. This could be anything from mild irritation to the eye to something as problematic as a corneal abrasion. There is also a small risk with inserting a contact lens into the eye," clarifies Dr. Libassi. "But with education, lens care and management, and appropriate follow-up with an eye doctor, the risk is minimized, leading to better visual health."
And when it comes to adding a bit of flare to your Halloween wear, Dr. Libassi cautions against the use of decorative contact lenses sold at costume stores or anywhere that doesn't require a prescription. 
"Decorative lenses purchased without a prescription can be ill-fitting and can lead to issues such as an eye infection, eye irritation (sores), corneal abrasion, and possible vision loss. Always see an eye doctor for your contact lens needs."
For more information about cosmetic and therapeutic contact lens care for patients of all ages at the University Eye Center, visit sunyopt.edu or call 212-938-4001.
October 12, 2021
Organization contact: Adrienne Stoller, communications@sunyopt.edu, 212-938-5600
###
About SUNY Optometry
Founded in 1971 and located in New York City, the State University of New York College of Optometry is a leader in education, research, and patient care, offering the Doctor of Optometry degree as well as MS and PhD degrees in vision science. The College conducts a robust program of basic, translational and clinical research and has 65 affiliated clinical training sites as well as an on-site clinic, the University Eye Center.  SUNY Optometry is regionally accredited by the Commission on Higher Education of the Middle States Association of Colleges and Secondary Schools; its four-year professional degree program and residency programs are accredited by the Accreditation Council on Optometric Education of the American Optometric Association. All classrooms, research facilities and the University Eye Center, which is one of the largest optometric outpatient facilities in the nation, are located on 42nd Street in midtown Manhattan. To learn more about SUNY Optometry, visit www.sunyopt.edu.