The Class of 2018 celebrated a major milestone in their journey to become doctors on May 19 in a packed Schwarz Theater in front of family members and friends.
"You are becoming members of a the health care team," SUNY Optometry president, Dr. David A. Heath told the students during the annual White Coat Ceremony, an event that has become ubiquitous at professional health education institutions in recent years.
Designed to mark the transition that students make from the largely didactic portion of their education during the first two years to the clinical focus of the next two, the White Coat Ceremony is both a celebration of what these soon-to-be third year OD students have accomplished, as well as a recognition of the critical work that they are about to undertake as health care providers.
And with the health care system in the midst of enormous evolution, a particular emphasis was placed on the changing nature of the environment these eventual doctors will be practicing in during their career.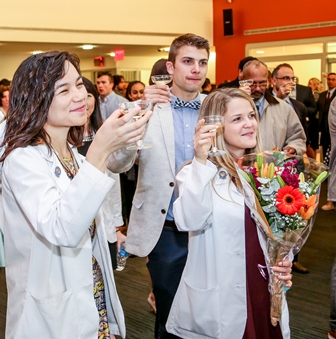 "Literally, the way that you deliver care could change from day-to-day," Dr. Richard Madonna, chair of the Department of Clinical Education, told the students. But, he continued, "You can rest assured that we have given you the knowledge and skills you need to succeed."
Dr. Richard Soden, the College's director of health care development, provided a history of the white coat among health care practitioners and spoke about the evolution of the white coat ceremony. Dr. Denise Whittam, president of the SUNY Optometry Alumni Association, also greeted the Class of 2018 and spoke about the "tremendous gratification" that is gained from practicing optometry.
In keeping with a tradition established in recent years, an OD-parent of one of the students—in this case, Dr. Irene Rosenberg, the mother of Adam Kropf—spoke to the class. "The most important thing to keep in mind is that the person sitting in your exam chair is putting their trust in you to take good care of their eyes and their vision," Dr. Rosenberg said.  "It's a notion that is simple—kind of clichéd really—but so profound."
The Class of 2018 president, Kathryn Brogan, spoke about the close-knit kinship that the 95 members of her class feel and how it has helped them get through the challenges of the last two years of rigorous work.
Since students receive their white coats at the beginning of their first year, SUNY Optometry provides lapel pins during the White Coat Ceremony that students then wear for the remainder of their training. At the conclusion of the ceremony, the Class of 2018 recited the "Optometric Oath for Students."
The White Coat Ceremony was supported by a series of sponsors, including the New York State Optometric Association, Topcon, Alcon, Allergan, Luxottica, the Optometric Center of New York, VSP Global, Essilor and Vision Source.