After completing a degree in biomedical engineering at the University of Rochester in 2010, Tristan Barrueco attended U.S. Navy's Officer Candidate School and was commissioned as an ensign. An unexpected medical discharge left him wondering what to do next.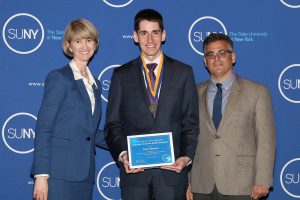 "Then a friend who had recently graduated from optometry school started teaching me about the field," says the Basking Ridge, New Jersey native. After shadowing an optometrist, Mr. Barrueco was all in, excited to find a career that built on his experience and put him on the front lines in diagnosing and treating many conditions. "The more I shadowed, the more I became convinced that optometry was the career for me," he says. "I loved learning about the medical aspect of optometry. I relished the satisfaction of helping people see."
Fast forward to graduation on Thursday, May 24, Mr. Barrueco is a recipient of the SUNY Chancellor's Award for Student Excellence—and he will also receive the Columbia Class of 1936 Award for academic and clinical achievement in ocular disease and the Class of 1991 Pacesetter Award for excellence in primary care. He has also received the National Board of Examiners in Optometry Certificate of Commendation for securing the highest score at SUNY Optometry on the national board exam. It's all recognition that he didn't expect.
"The decision to go back to school for four years after being out in the 'real world' was incredibly tough," Mr. Barrueco says. "To walk across the stage at The Roosevelt Hotel not only with that aquamarine doctoral hood, but also the medal representing the SUNY Chancellor's Award is a testament to four years of trying my hardest to succeed, of never giving up when there was a seemingly endless number of quizzes, tests and practicals. Most importantly, it is a symbol of how I was able to find a profession that was meant for me and one that I truly cherish."
Mr. Barrueco especially enjoys working with patients with ocular disease and those who require contact lenses. In fact, his first rotation during his fourth year was in specialty contact lenses. "It's incredibly rewarding when you place a contact lens on the eye of a patient and see their face light up when they are able to read the letters on the chart," he says.
He just finished a rotation at the Lyons Veterans Administration Hospital in New Jersey where his work focused primarily on the treatment and management of ocular disease. But it is his work as treasurer of Student Volunteer Optometric Services to Humanity that has perhaps changed Mr. Barrueco the most. "I entered SUNY Optometry incredibly naïve to the plight of eye care throughout most of the world. Upon watching a video at the introductory meeting, I was instantly moved by the impact of eye care services in developing countries," he says. "I believe that every citizen on this earth should have the right to see. The ability to see an eye doctor or afford glasses should not confer the ability to see."
That belief took him to San Juan del Sur, Nicaragua, last January, where he served at a free clinic that saw more than 4,400 patients who do not have access to eye care. And last May, he helped see more than 3,500 people at an OneSight Vision Care Clinic in Dar es Salaam, Tanzania. He also works with the New Jersey Special Olympics, providing vision and ocular health screenings for athletes during each of his summers at SUNYOptometry.
Mr. Barrueco will continue his work with a residency in primary care, ocular disease and specialty contact lenses at VA Salt Lake City Health Care System. "The fact that it merges two different areas makes it very unique and excites me a lot, as they are both great passions of mine," he says. "Having served in the Navy, it brings me great pride to be able to give back to the veterans at the VA hospital."
Media Contact: Amber E. Hopkins-Jenkins, 212.938.5607, aehopkinsjenkins@sunyopt.edu