SUNY highlights positive impact on student development and experience within DEI, Multicultural, Accessibility, Gender, LGBTQ, Spirituality, International, and other related programs
FOR IMMEDIATE RELEASE: October 26, 2022 – New York
Writer: Greg Houle
Media Contact: Dawn Rigney, communications@sunyopt.edu, 212-938-5600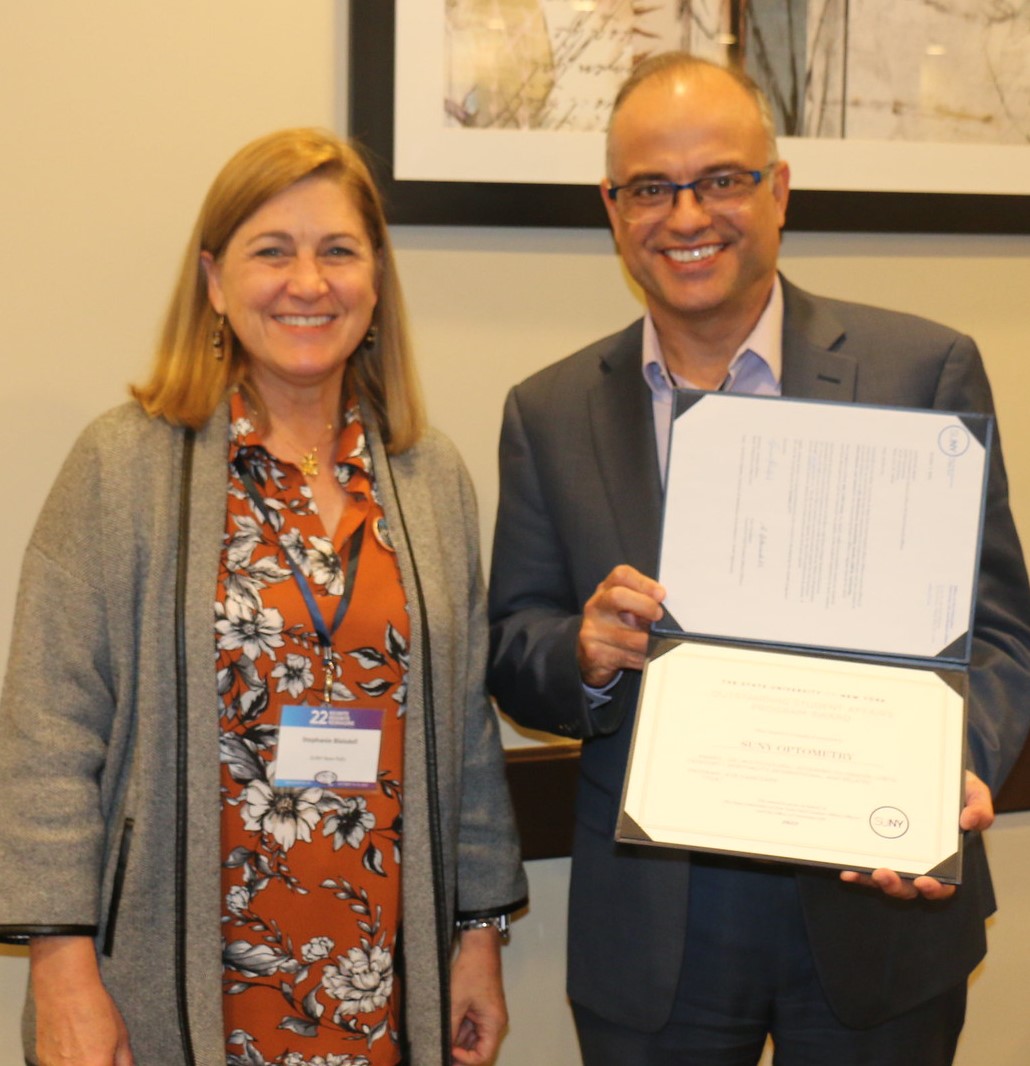 SUNY College of Optometry received recognition last week from the State University of New York (SUNY) for the impressive achievements of its Eye-CARE Camp program, which has helped to raise awareness of the College as well as bolster its strategic efforts toward greater diversity, equity, and inclusion. The program was highlighted from among all of the 64 campuses within the SUNY system.
The State University of New York's Chief Student Affairs Officers and the Office of University Life presented the Outstanding Student Affairs Program Award in the DEI, Multicultural, Accessibility, Gender, LGBTQ, Spirituality, International, and related category to Dr. Gui Albieri, Vice President for Student Affairs and Engagement at the College, during the New York State College Student Personnel Association Conference luncheon in Binghamton on October 17.
"I'm so proud of our team and what we accomplished in such a short period of time with this new program," Dr. Albieri said. "The thoughtful efforts and hard work of Dr. Christian Alberto and Sav Ramirez helped make Eye-CARE Camp a meaningful and successful endeavor for participants. We are honored that SUNY recognized the dedication and leadership of this program."
Eye-CARE (Cultivating Applicants for the Rising need of Eye-care) Camp is an innovative recruitment program, sponsored by Vision Service Plan (VSP), that has served nearly 300 prospective students, including many from under-represented and economically disadvantaged communities, since it was launched in 2021. With its hybrid delivery model, the three-day Eye-CARE Camp program exposes undergraduate student participants, both in-person at the College and online across the country, to the work that optometrists do as well as the role that they play in the broader health care system.
The program, which gets promoted to college advisors across the northeast as well as through the National Association of Advisors in the Health Professions (NAAHP), also provides participants with the knowledge and tools that they need to become qualified applicants to optometry school, such as communication and leadership development skills.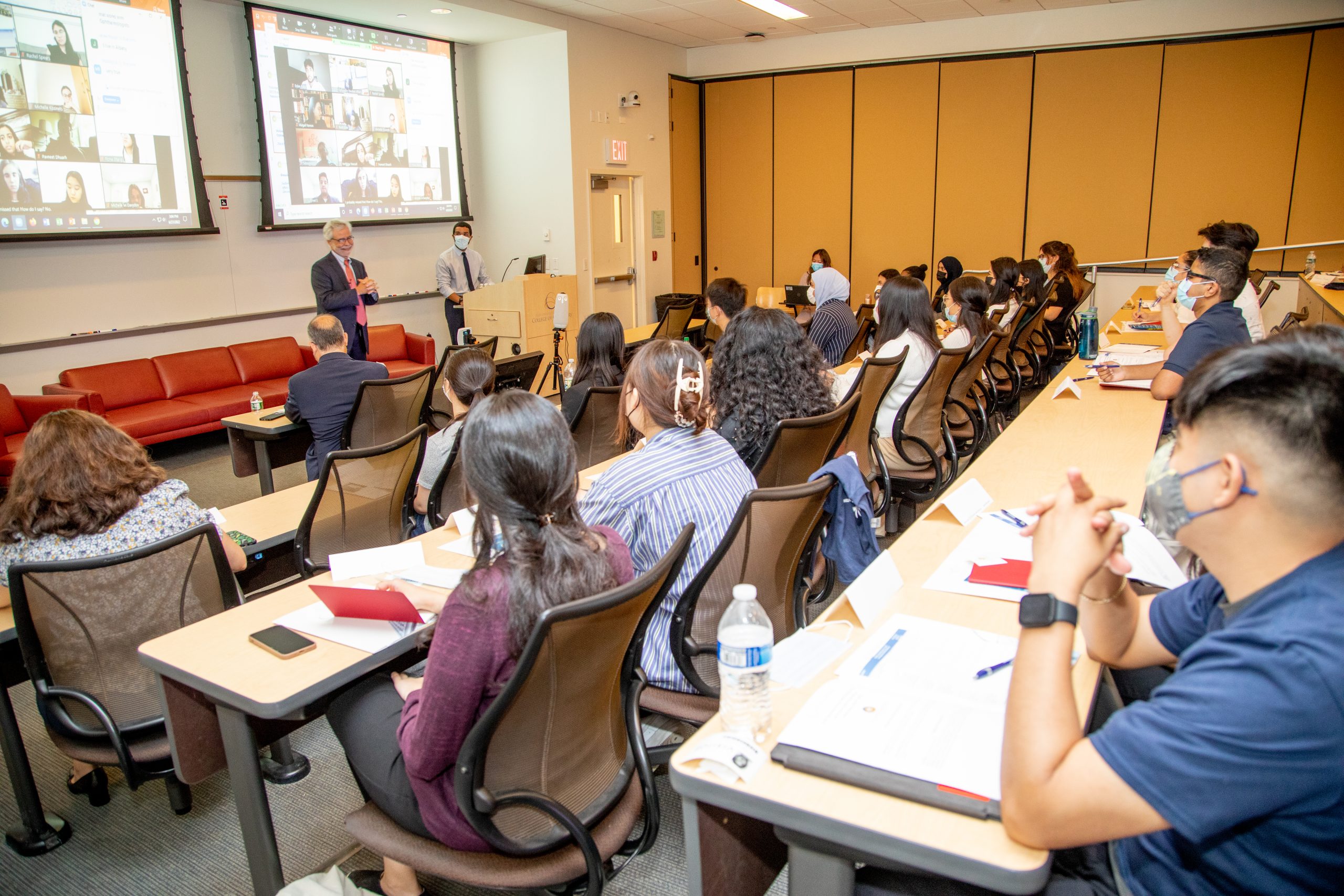 "Eye-CARE Camp has made a significant impact on participants' interest in both pursuing an optometric education and doing so at SUNY Optometry, with a third of the participants from 2022 expressing a stronger interest in the profession and the College after completing the camp than they did prior to participating in it," said Dr. Christian Alberto, Director of Admissions and Enrollment Management.
Eye-Care Camp also reduces financial barriers for prospective students by providing full sponsorships to Kaplan's OAT prep course. Eye-Care Camp is a component of the College's wider efforts to strengthen its commitment to diversity, equity, and inclusion, serving prospective students from across the country while the College's CSTEP program serves under-represented and economically disadvantaged students from New York State.
"To ensure patients across all dimensions of diversity have access to personalized and culturally relevant vision care, we must be intentional about exposing students with diverse experiences and backgrounds to careers in optometry," said VSP Vision Chief Diversity Officer Marvin Davenport said. "Eye-CARE Camp has proven to be an invaluable tool for promoting the optometric profession. I am grateful for the entire SUNY Optometry team and am excited about this recognition of the long-standing partnership between our organizations."
In addition to what they learned about optometry, many participants also found Eye-CARE Camp to be an empowering experience.
"This is the first time I could actually see myself as someone. Thank you, SUNY, for cultivating such an empowering, inspiring, and inclusive environment for us," read one of the participant's responses to the program.
"Increasing representation within our student population is one of our key strategic initiatives and of critical importance for the future of the optometric profession," Dr. David Heath, President of SUNY Optometry, said. "I'm pleased with the engagement that we have seen from prospective students with Eye-CARE Camp, particularly among under-represented students who might not otherwise be aware of the opportunities afforded to aspiring optometrists. I am encouraged by how this program will bolster our continued efforts toward ensuring that we have an exceptionally diverse and inclusive community at the College and across the optometric profession."
###
About SUNY Optometry
Founded in 1971 and located in New York City, the State University of New York College of Optometry is a leader in education, research, and patient care, offering the Doctor of Optometry degree as well as MS and PhD degrees in vision science. The College conducts a robust program of basic, translational, and clinical research and has over 65 affiliated clinical training sites as well as an on-site clinic, the University Eye Center. The Optometric Center of New York serves as the College's affiliated philanthropic foundation securing resources to support the mission of the College. SUNY Optometry is regionally accredited by the Commission on Higher Education of the Middle States Association of Colleges and Secondary Schools; its four-year professional degree program and residency programs are accredited by the Accreditation Council on Optometric Education of the American Optometric Association. All classrooms, research facilities and the University Eye Center, which is one of the largest optometric outpatient facilities in the nation, are located on 42nd Street in midtown Manhattan. To learn more about SUNY Optometry, visit www.sunyopt.edu.