The president of Weiss, Savedoff & Ciccone, Doctors of Optometry, PC is looking to add another member of the College community to the practice.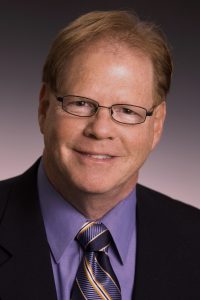 The work of Dr. Leonard Savedoff '79 may be credited to a curious mix of intercession and luck. The New York City-native was well on his way to becoming an attorney, majoring in political science/pre-law and taking "an abundance of biology classes for fun." Three years in, his academic advisor suggested that he take classes necessary to complete a dual major in biology.
"When we discussed biology-related professional choices, he asked if I'd like to become an optometrist. I asked, 'What is an optometrist?' I'd never had an eye exam, so he suggested I get one and investigate the profession," says Dr. Savedoff. His exploration led him to apply to SUNY Optometry. "After my interview with the dean, Dr. Leonard Werner, I asked what my chances were of getting accepted. He replied, 'Excellent, the profession needs more Leonards.'" He considered dropping out two months in, but his sister and brother-in-law staged an intervention to push him to stay. "I began to excel in my studies and the rest is history!"
These days, the developmental optometrist is president of Weiss, Savedoff & Ciccone, Doctors of Optometry, PC in Syracuse, New York. He was recruited by founding partner Dr. Jerome Weiss—whose SUNY Optometry legacy lives on via an endowed scholarship—to bring vision therapy to Central New York state. The late Dr. Weiss was a graduate of the Columbia University optometry school that eventually led to the founding of the College. Dr. Savedoff and partner Dr. David Ciccone '94 purchased the practice when Dr. Weiss retired, and they work hard to extend the legacy of both the practice and the College.
In fact, they are looking to add a College alumnus to their team. "I'm immensely proud to be a SUNY Optometry graduate and be associated with its great reputation. We would love to continue the succession by adding a new graduate to our staff," Dr. Savedoff says. "Currently, we are seeking an additional developmental optometrist to facilitate the expansion of our vision therapy program."
Outside of the practice, Dr. Savedoff has put his skills to use conducting the American Optometric Association Sports Vision Section screening of thousands of Olympic athletes, consulting with players on the Chicago White Sox, working with the Upstate Concussion Clinic and writing the referral protocol for concussion-related vision care for NCAA athletes at Syracuse University. "This achievement has meant a lot to me, as it's been part of a long-term struggle for proper recognition of what optometry can achieve in sports- and concussion-related vision care," Dr. Savedoff says of working with the Syracuse University Sports Medicine Department.
Somehow, he still has time for hobbies. "I enjoy photography. I had a work study job developing (before the digital age) black-and-white fluorescein retinal angiographies for the College. I have 22,000 photos indexed on my iPhone," Dr. Savedoff says. He also bikes about 35 miles a week, when the weather cooperates. And he and his wife take ballroom dancing lessons and wine-related trips to places like Sonoma County and the Champagne region of France.