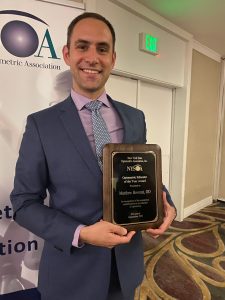 New York, New York—Since Dr. Matthew Bovenzi's very first interaction with the SUNY College of Optometry, he has been an original. His admission interview happened over a satellite call as he sat aboard a Naval ship in the Arabian Gulf. "They couldn't send a helicopter to come and get me," quipped the former surface warfare officer. 
Bovenzi aced the interview and his four years in the Navy—a requirement of the ROTC scholarship that paid for his undergraduate degree at Cornell University—he was enthusiastic to prepare for his new career. "I was a neurobiology major [at Cornell]. The biology aspect made me interested in optometry, then I took a course called Perception, which was about visual, auditory, taste and touch. That made me interested in vision, so I took the OAT senior year, even knowing I had to serve in the Navy first." 
Bovenzi graduated from the SUNY Optometry in 2014. He then completed a residency in ocular disease and family practice at the East NY Diagnostic & Treatment Center and focused on glaucoma. A year later, he returned to SUNY as an assistant clinical professor. In May 2016, Bovenzi also became Assistant Chief of Primary Care. In that role, he partners with the Chief of Primary Care working on scheduling, budgeting, planning and logistics for the department. 
For his commitment to preparing the next generation of optometrists for practice, Dr. Bovenzi was recently named New York State Optometric Educator of the Year and promoted to clinical associate professor at the College. 
During his time in the military, Bovenzi learned a number of skills that he uses today both as an optometry professor and in Primary Care. "Even though the Navy has nothing to do with my career, it gave me responsibility and organization and leadership skills," he says. "Those helped in becoming a faculty member."
Bovenzi's naval career is not the only thing that has influenced his time at SUNY in unexpected ways. Alongside neurobiology, he also majored in music as an undergraduate. "I still have a full-sized keyboard at home that I play recreationally," says Bovenzi, who led an acapella group at Cornell. "And I am in the talent show every year at SUNY, singing and on piano." 
While interacting with patients is a key reason why Bovenzi loves his profession, he also gets "scientific nerdy" entertainment from it. "You're looking at a computer screen and have no idea that there are 1.2 million cells firing right now to tell your brain all of the things required to see that image. The brain is taking it, analyzing it, making sense of all of it. Eyes are always working," he says. "[This field] marries medical science with physical science and the primary care aspect of optometry."
This field has also given him opportunities to do humanitarian work. Bovenzi has gone on five international mission trips—including in Panama and Cameroon—through Volunteer Optometric Services to Humanity (VOSH). He also created a computer program to catalog and dispense donated eyeglasses for the trips. 
And so, nearly five years after he sat on a naval vessel hoping eye care would be fulfilling, Bovenzi continues to find motivation as his career progresses. "I'm still fascinated by the visual system," he says. "But since becoming an optometrist, I'm more interested in what can go wrong with it—and how to fix it."
November 11, 2021
Organization contact: Adrienne Stoller, communications@sunyopt.edu, 212-938-5600
###
About SUNY Optometry
Founded in 1971 and located in New York City, the State University of New York College of Optometry is a leader in education, research, and patient care, offering the Doctor of Optometry degree as well as MS and PhD degrees in vision science. The College conducts a robust program of basic, translational and clinical research and has 65 affiliated clinical training sites as well as an on-site clinic, the University Eye Center.  SUNY Optometry is regionally accredited by the Commission on Higher Education of the Middle States Association of Colleges and Secondary Schools; its four-year professional degree program and residency programs are accredited by the Accreditation Council on Optometric Education of the American Optometric Association. All classrooms, research facilities and the University Eye Center, which is one of the largest optometric outpatient facilities in the nation, are located on 42nd Street in midtown Manhattan. To learn more about SUNY Optometry, visit www.sunyopt.edu.