SUNY Optometry Continues Annual Race in Optometry Webinar Series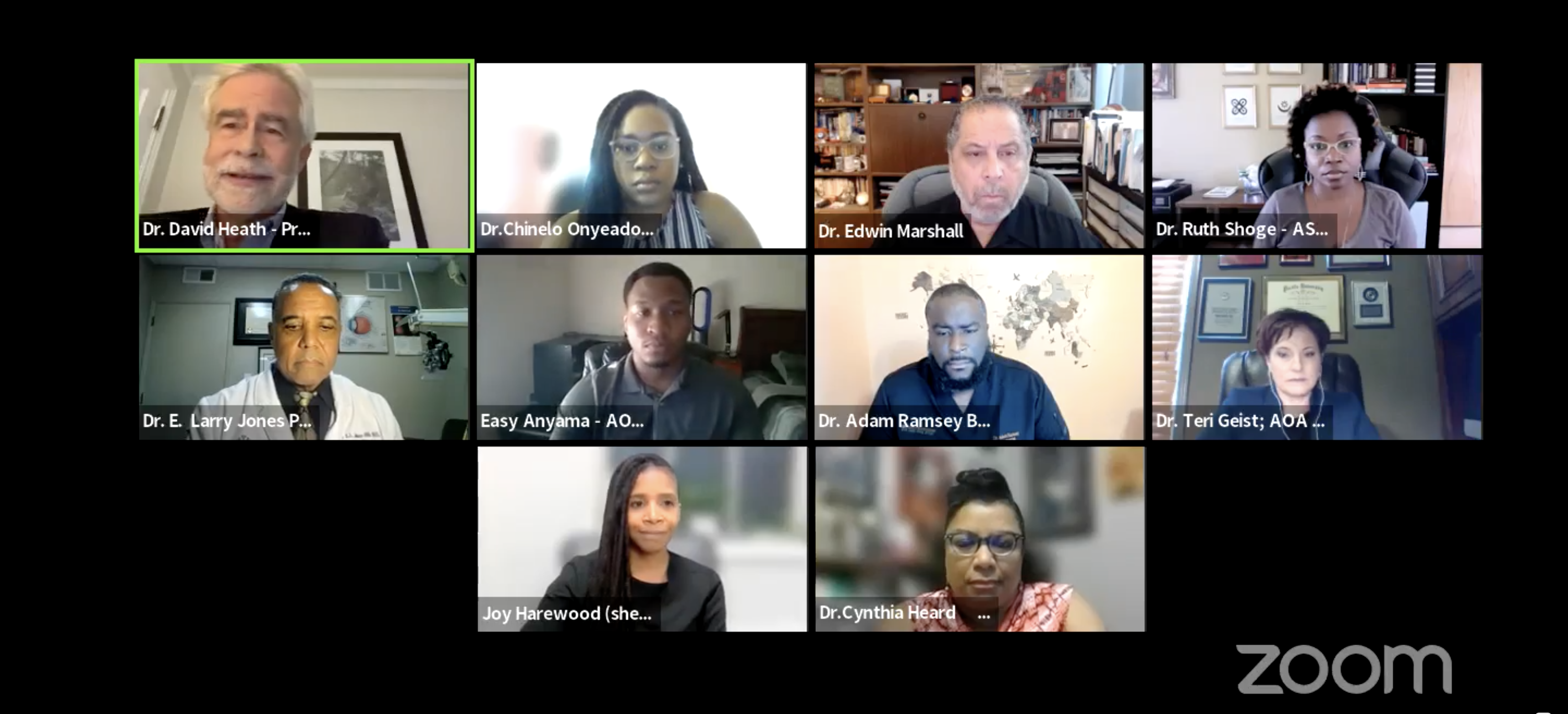 This week, The State University of New York (SUNY) College of Optometry held a continuation of their annual webinar series, Race in Optometry which started in 2020. Aimed at fostering a national dialogue that leads to necessary changes to increase diversity in the optometric profession and education, the annual webinar focused on Where Are We Now. This webinar was the fifth installment in a series hosted annually around the Juneteenth holiday by the College's Office of Continuing Professional Education. Building upon previous themes and actions, each year the conversation evolves to transparently address the progress made as well as current issues. The June 22 webinar added the patient perspective addressing why increasing diversity within healthcare professionals is a vital step in resolving health inequities and providing the highest quality of care.
Dr. Joy Harewood, OD, Director of Diversity, Inclusion, Equity and Belonging at SUNY Optometry, moderated the event, "We are thrilled to have for the first-time student and resident voices on our panel and to hear from patients in the importance of diversity among healthcare providers. We cannot forget that our efforts are to make sure that downstream health inequities are eventually resolved."
The power packed panel consisted of leaders from key organizations that support diversity in optometric education and the profession including the American Optometric Association (Dr. Teri Geist), American Academy of Optometry (Dr. Cynthia Heard), Indiana University (Professor Emeritus Dr. Edwin C. Marshall), National Optometric Association (Dr. Edward "Larry" Jones), National Optometric Student Association (Dr. Chinelo Onyeador), American Optometric Student Association (Mr. Easy Anyama), Association of Schools and Colleges of Optometry – Diversity and Cultural Competency Committee (Dr. Ruth Shoge), and Black Eyecare Perspective (Dr. Adam Ramsey). SUNY College of Optometry president, Dr. David Heath, provided introductory comments and his reflections on the panel's discussion.
"We are following on our promise to hold this annual webinar to keep a profession-wide focus on the critical issues of diversity, inclusion and equity. For progress to be made we must highlight, through accountability and transparency, how we are doing as a profession and how our various organizations are prevailing in improving optometry's history and more importantly optometry's future with a diverse student body and workforce." said SUNY Optometry President David A. Heath, OD, EdM.
Addressing changes observed in the past few years, Dr. Edwin C. Marshall commented, "Looking at the last 2 graduation and enrollment cycles, there have been positive gains from application to graduation. The total enrollment of black students in the last two years increased from 3.2% to 4%. More encouragingly, the first-year enrollment over the last two years grew from 4.1% to 5.5%."
Taking the student perspective, Mr. Easy Anyama, President of AOSA, said, "every organization in optometry has become more aware and willing to do something. That's the major difference."
Wrapping up the conversation was a continued call for accountability with distinct goals and actions as well as identifying the consequences for inaction.
To view past Race in Optometry episodes, visit https://www.sunyopt.edu/academics/programs/continuing-education-ce/special-series/
###
About SUNY Optometry
Founded in 1971 and located in New York City, the State University of New York College of Optometry is a leader in education, research, and patient care, offering the Doctor of Optometry degree as well as MS and PhD degrees in vision science. The College conducts a robust program of basic, translational, and clinical research and has over 65 affiliated clinical training sites as well as an on-site clinic, the University Eye Center. The Optometric Center of New York serves as the College's affiliated philanthropic foundation securing resources to support the mission of the College. SUNY Optometry is regionally accredited by the Commission on Higher Education of the Middle States Association of Colleges and Secondary Schools; its four-year professional degree program and residency programs are accredited by the Accreditation Council on Optometric Education of the American Optometric Association. All classrooms, research facilities and the University Eye Center, which is one of the largest optometric outpatient facilities in the nation, are located on 42nd Street in midtown Manhattan. To learn more about SUNY Optometry, visit www.sunyopt.edu.