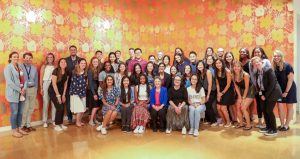 New York, NY—The State University of New York (SUNY) College of Optometry welcomed new residents hailing from regions close to home and across the nation during an on-campus orientation held on July 16.  A diverse group comprised of 22 recent graduates from SUNY Optometry, including one candidate in the final leg of completing a joint residency/graduate degree in vision science, this year's class of 43 residents is the largest in the College's history.
"Upon the completion of the program for your class, we will exceed more than 1,000 residents trained at SUNY Optometry, a true milestone during the College's 50th Anniversary. As the site of the first established residency [in optometry] in the country, residents who graduate from our program are well-respected and are truly elevated to a different level," said Director of Residency Programming, Diane Adamczyk, OD, in her opening remarks to new residents. "We set the pace that other colleges and residency programs follow."
Optometric residency at the College began in 1974-75 with a program in vision therapy. Since that time, residencies affiliated with and at the College have expanded to nearly 20 practice areas, including cornea and contact lenses; ocular disease, community health optometry; primary eye care; pediatric optometry, low vision rehabilitation; vision rehabilitation (brain injury rehabilitation), and vision therapy and rehabilitation, a combined residency/graduate degree program, and the first established brain injury program in the nation. The broad scope of residencies offered at SUNY Optometry allow new doctors the opportunity to work with diverse patient populations and complex cases emphasized new vision therapy resident Chizoba Heather Ogoke, OD.
"I chose optometry because while in high school, I began to have a hard time with reading comprehension. I went to my family eye doctor, Dr. Tanya Carter ('87), who diagnosed me with convergence insufficiency and prescribed vision therapy. I had no idea vision therapy existed. I progressed very well with the treatment. Since then, I knew I wanted to specialize in this field and have worked with Dr. Carter and Dr. [Frank] Barnes ('86) in their practice," said Dr. Ogoke, a 2021 graduate of Arizona College of Optometry and West Orange, New Jersey native. "I have a personal connection to my career path and know that a residency at SUNY is top-notch."
Residency orientation at SUNY Optometry organized by Residency Education Staff Assistant Ramola Poonai featured an overview of requirements for completing the year-long program and support services at the College, such as career counseling, media support, and library services for required research and scholarly activities. The full-day session also hosted short presentations from industry sponsors, including Alcon, whose representatives Tom Duchardt, director professional relations, and Kriti Bhagat, OD, covered the importance of networking for career development and practice building. They were joined virtually by CooperVision's Justin Kwan, OD, senior manager, myopia management, who offered insight into the growing prevalence of myopia and the importance of detection and management of the condition starting in childhood.  At SUNY Optometry, residency is not only focused on advancing academic and clinical expertise to the highest level. It is also about helping new optometrists to make connections and gain exposure to all areas of optometric practice and care to ready them to be the next generation of leaders in the field.
"Nationally, only about 25 to 28 percent of graduates in optometry go on to residencies," said Dr. Adamcyk to the residency Class of 2022. "That makes you a select and elite group. You are the future of the profession."
In June, the College celebrated the completion of programming for 40 residents, including Rebecca Aquije, OD, who received the 2021 Dr. Martin H. Birnbaum Memorial Award. The residency farewell also recognized SUNY Optometry post-residency grad Andre Stanberry, OD, '08, as the 2021 Resident Alumni of the Year.
For more information about residency programs at SUNY Optometry, visit sunyopt.edu.
July 19, 2021
Organization contact: Adrienne Stoller, communications@sunyopt.edu, 212-938-5600
###
About SUNY Optometry
Founded in 1971 and located in New York City, the State University of New York College of Optometry is a leader in education, research, and patient care, offering the Doctor of Optometry degree as well as MS and PhD degrees in vision science. The College conducts a robust program of basic, translational, and clinical research and has 65 affiliated clinical training sites as well as an on-site clinic, the University Eye Center. SUNY Optometry is regionally accredited by the Commission on Higher Education of the Middle States Association of Colleges and Secondary Schools; its four-year professional degree program and residency programs are accredited by the Accreditation Council on Optometric Education of the American Optometric Association. All classrooms, research facilities and the University Eye Center, which is one of the largest optometric outpatient facilities in the nation, are located on 42nd Street in midtown Manhattan. To learn more about SUNY Optometry, visit www.sunyopt.edu.