How vision rehabilitation can strengthen sight, improve quality of life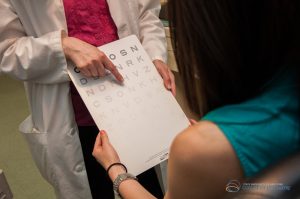 New York, NY — Did you know that nearly 3 million Americans age 40 and older have low vision (National Institutes of Health)? It is a condition that can impact people of all ages but mostly found in older adults. 
Low vision is the term used to describe significant visual impairment that cannot be corrected fully with glasses, contact lenses, medication, or eye surgery. It does not mean complete blindness. Vision may be hazy, or there may be blind spots or missing areas of side vision that disrupt the visual field, and these can affect the way an individual perceives the world. Common causes of low vision include macular degeneration, cataracts, diabetic retinopathy, and glaucoma. It can also be inherited or caused by an eye or brain injury.
For people with low vision, daily tasks like reading, viewing the computer or television, traveling independently, shopping, kitchen duties, money management, taking medication, bathing and personal needs, engaging in hobbies and outdoor activities can become more difficult. Concerns may grow about losing independence. That's where low vision rehabilitation can make all the difference.
"Low vision rehabilitation services do not cure the cause of the vision problem but it can improve quality of life," explains Rebecca Marinoff, OD, FAAO, associate clinical professor and low vision residency supervisor at SUNY College of Optometry. "It includes skills and strategies that can help patients adapt to vision loss and use what remains to their fullest potential." 
Patients with low vision are initially evaluated using specialized eye charts. An eye doctor will check the vision on the eye chart, and evaluate side vision, contrast sensitivity (if reduced, it can cause hazy vision), and blind spots, which can appear as dark spots or distortion. Upon evaluation, the rehabilitation team will demonstrate different devices to help the patient do the everyday tasks that are difficult for them. 
Options for low vision devices include:
Specialized glasses, including high powered reading glasses
Hand/stand magnifiers
Sunglasses
Telescopes
Lamps
Filters for glare control
Electronic devices and computer adaptions
Non-optical options comprise reading guides, appropriate lighting, large print, audiobooks, and sensory substitution. "If a patient needs help outside the optometric scope, such as for help with traveling independently or cooking, we can refer to other rehabilitation professionals for evaluation and training," adds Dr. Marinoff. For those who are having difficulty coping with vision loss, the University Eye Center at SUNY Optometry offers social work services for more support. "We always try our best to help people do the things they want or need to do and offer a range of options that will help."
For more information about low vision rehabilitation and other specialized services for children and adults at the University Eye Center, visit sunyopt.edu or call 212-928-4001. Referrals are also accepted and welcomed.
February 23, 2021
Organization contact: Adrienne Stoller, communications@sunyopt.edu, 212-938-5600
###
About SUNY Optometry
Founded in 1971 and located in New York City, the State University of New York College of Optometry is a leader in education, research, and patient care, offering the Doctor of Optometry degree as well as MS and PhD degrees in vision science. The College conducts a robust program of basic, translational, and clinical research and has 65 affiliated clinical training sites as well as an on-site clinic, the University Eye Center. SUNY Optometry is regionally accredited by the Commission on Higher Education of the Middle States Association of Colleges and Secondary Schools; its four-year professional degree program and residency programs are accredited by the Accreditation Council on Optometric Education of the American Optometric Association. All classrooms, research facilities and the University Eye Center, which is one of the largest optometric outpatient facilities in the nation, are located on 42nd Street in midtown Manhattan. To learn more about SUNY Optometry, visit www.sunyopt.edu.