Ms. Rose leans into her commitment to SUNY Optometry.
As partner of AchieveMission, Jan Rose spends her days strengthening leadership and organizational effectiveness in the social sector. This commitment to improving the world also moved her to join the Optometric Center of New York's board of trustees in 2009.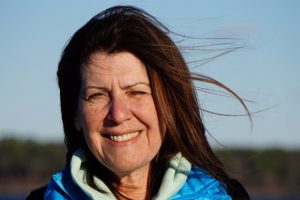 "I've focused my career on working with organizations dedicated to improving the lives of people in areas that will make the most impact such as human rights, education, workforce development, research and health care. SUNY Optometry's mission combines all of these areas, and it is doing this work in my own community," says Ms. Rose, whose sister is happy to claim long-time board member and past president Hal Spielman as her father-in-law. "Hal is an incredibly effective board recruiter; he knew that I would be interested in the work that the school does with low-income children. Early in 2009, I was invited to take a tour of the school. I saw the students in action in the clinic, and met doctors doing research in head trauma," she says. "I realized then that this was an organization with which I wanted to be affiliated."
Ms. Rose takes the affiliation seriously, using skills honed via more than 30 years in talent management at firms including Mercer, Aon/Hewitt and The NPD Group. She has used her facilitation training to lead board subcommittee meetings and her leadership development background to advise the College's Career Development Center. She also applies her human resources background to serve on the board's recruiting committee, and her knowledge of board governance has helped in her role as chair of the governance and nominating committee.
But the New Milford, New Jersey-native is most committed to evolving the makeup of the OCNY board in the years to come. "The most important goal is to increase and diversify board membership. We have a history of exceptional board membership and strong, positive relationships that have served us well, but some members are retiring," she explains. "We are taking this opportunity to add board members whose profiles mirror our community and student body, and who represent industries aligned with our research and clinical focus areas."
It is a task for which Ms. Rose is well prepared: "I've learned the importance of culture in a board's effectiveness. Many boards fail to achieve their goals because of unclear or conflicting values and how such fractures play out in conversations and decisions. Our board has had a long history of aligned values and a shared vision of how we behave together. As we seek new board members, we look for those who will challenge our thinking, but uphold the strength of our strong culture."
When she is not working, Ms. Rose enjoys riding her bike, running along the Hudson River and spending time with her large extended family and her daughters, Diana and Jenna. She is also on the board of Tribeca Leadership, where she provides coaching and strategic advice, co-leads a coaching program for the New York and Long Island Dioceses of the Episcopal Church and enjoys co-organizing her high school's 45th reunion.
One thing is certain—Ms. Rose will have lots to share when she reconnects with her high school friends, including her hope for the future: "I would like to leave a legacy of cascading impact on the individual leaders I coach," she says. "My hope is that each of them has grown substantially through our work, and that they in turn empower those they interact with to achieve success in their missions to make this a better world."