As a student member of the Optometric Center of New York board, she always thinks of the greater good.
It may sound counterintuitive, but the most important lesson second-year student Mackenzie Bradley has learned during her time at SUNY Optometry is that grades aren't everything.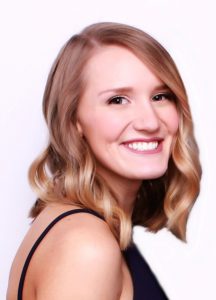 "The greatest doctor in the room is not necessarily the one with the highest GPA. Becoming a strong clinician requires skills beyond your grades," says Ms. Bradley, who believes her clinical attitude and approach are influenced by her undergraduate minor coursework in women's, gender and sexuality studies at University of Connecticut. "Being knowledgeable must also be accompanied with qualities like confidence, honesty, compassion, respect and the ability to listen. My coursework has allowed me to step outside my own personal experience, and to approach my care with awareness of the intersectionality that exists in my patient population."
While that holistic view of the profession will undoubtedly serve her well after graduation, she's already putting it to good use as a student representative on the Optometric Center of New York (OCNY) board of trustees. "It is a special experience for me to be able to see the behind the scenes of the work the OCNY does for the school and New York community," Ms. Bradley says of her tenure on the board. "A major focus of the board this year has been the new Center for Pediatric Eye Care, and I have been able to see firsthand all the hard work that has gone into the campaign for this expansion. It has been exciting to [witness] the progress the board has made to make this new pediatric floor a reality."
Ms. Bradley has made something of a habit out of representing the College. As vice president of the class of 2020, she helps facilitate events that bring the community together. "This position has allowed me to get involved in all sorts of SUNY community events like the Halloween party, the annual softball game, the talent show, and the events my class holds to raise funds for our graduation. It has been an awesome way for me to get to use my creativity and also get to know more of the student body personally," she explains.
She also uses her skills for connection as a campus tour guide, helping to orient potential students with the program. It's an effort to pay forward the assistance she received as a prospective member of the community. "When I was touring optometry schools, I found the student tour guides to be a valuable resource to help me feel more comfortable in making my decision," she says. "I wanted to offer that same guidance, and I have really enjoyed answering all the questions and concerns of the potential incoming SUNY students on their interviews. I am happy to help them all feel more at ease during the stressful application experience."
When she's not representing the College community, Ms. Bradley, who hails from Ringwood, New Jersey, tries to experience as much of the city as humanly possible. "I've had the chance to see five Broadway shows, visit multiple museums and pop-up exhibits, walk across the Brooklyn Bridge, row a boat in Central Park and so much more," she says. "It has been a blast living here so far, and there is always something up next on my to-do list."