The Optometric Center of New York board member believes in the mission—and expansive future—of the College.
In 2021, SUNY Optometry will celebrate its 50th anniversary. One of the participants will be Thomas Farrell, who has been a part of the College community for nearly half of that time.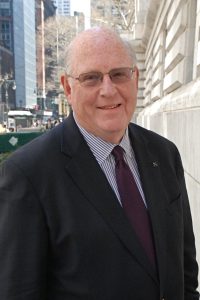 Mr. Farrell is currently vice president of the board of the Optometric Center of New York (OCNY), a position he has held for two years. Previously, in the 1990s, he was its president. In his ongoing role on the board, Mr. Farrell works alongside peers and colleagues who share his dedication to pursuing the mission of the OCNY and the College.
With a background in compliance for financial institutions including Doyle Carden Associates and Lloyds Banking Group, Mr. Farrell, now-retired, brings his expertise in banking to his continued role as a champion for the OCNY. "I believe deeply in the College's three missions of optometric education, research and patient care," he says. "During my next twelve months on the board, I hope to ensure that the current pediatric campaign is successful and provides a firm foundation for our next fundraising campaign, which will be centered around the College's 50th anniversary."
Mr. Farrell became interested in the field as a result of his affiliation with the College. "I have needed vision correction since the 5th grade, but I always went to ophthalmologists," he says. "Since joining the OCNY board, I have learned that optometrists' focus on vision provides a superior eyesight experience. I have referred friends to the University Eye Center and all have had similarly positive results."
The graduate of New York University's MBA program has worked on projects and teams for banks in the United States, Canada, Europe and Japan, yet what is most fulfilling for Mr. Farrell hits much closer to home. Of his most cherished achievement, he says, "I am proud that I was a good role model for my son who is well on his way to an extraordinarily successful career in real estate development and volunteer service." It is not surprising, considering his father's ongoing legacy of giving back.