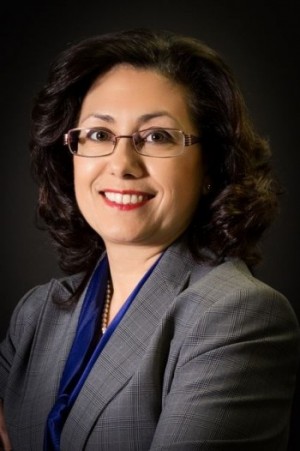 Ms. Liduvina Martinez-Gonzalez assumed the role of vice president for clinical administration and executive director of the University Eye Center on July 1.
Ms. Martinez-Gonzalez's appointment followed a national search which began in 2014 when it was announced that Dr. Richard Soden, the former executive director of the UEC, would move into the newly created position of director of health care development.
Ms. Martinez-Gonzalez had served as the UEC's chief operating officer since 2006 and has more than 25 years of experience in health care management. In addition to her role as COO, Ms. Martinez-Gonzalez served as associate director for clinical administration (1992 – 2006) and as assistant director for clinical administration (1990 – 1992) at the UEC. Before joining the College, Ms. Martinez-Gonzalez worked for the New York Health and Hospitals Corporation, the organization that operates the public hospitals and clinics in New York City, at the Morrisania Neighborhood Family Care Center in the Bronx. She received her MS in Public Health in 1987 from the University of Massachusetts and her BA from Mount Holyoke College in 1984.
"Liduvina has tremendous experience and insight," President Heath said. "With her in this role I am confident that the University Eye Center will be in excellent hands as we move forward."
"I have great affinity for the University Eye Center and SUNY Optometry," Ms. Martinez-Gonzalez said. "I'm grateful for the opportunity to lead the UEC and I'm looking forward to engaging our entire community as we move the clinic forward."
This summer, Ms. Martinez-Gonzalez was named by Vision Monday magazine as one of the "2015 Most Influential Women in Optical."