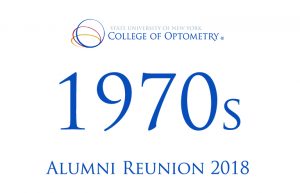 Reunion ambassador Dr. Nina Kalmanson Purvin wants to see your face in the place.
Every optometrist appreciates the importance of staying current with industry developments and adding to their knowledge base. For SUNY College of Optometry graduates in-the-know, the annual Envision NY continuing education (CE) weekend is the ideal time to fulfill their CE requirements. And alumni who return to campus for the 17th annual conference on October 19-21 will be treated to much more than hours in the classroom.
The festivities on Saturday, October 20 will include a reunion reception at the Princeton Club, and reunion ambassador Dr. Nina Kalmanson Purvin '78 anticipates that all of her classmates who graduated the College in the 1970s will be in attendance. "I'm hoping to reconnect with old friends!" says the retired optometrist, who formerly served at Advanced Optometric Associates of Long Island.
The event, which begins at 5 p.m., will include the presentation of the Alumnus of the Year Award. Come celebrate with Dr. Kalmanson Purvin and other College alumni!