August 12, 2020
It's not just your skin that needs sun protection, your eyes need it too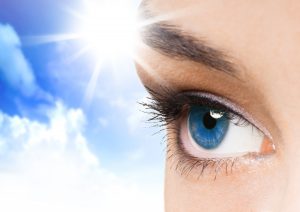 New York, NY—When the mercury is on the rise, it's important to pay special attention to your eyes, advises Franklin Bui, OD, assistant clinical professor at the State University of New York (SUNY) College of Optometry and clinical research optometrist at the Clinical Vision Research Center.
"The summer sun and high temperature not only can affect your skin, but your eyes are highly vulnerable to the heat as well. Several common conditions can affect your eyes during this time of year," explains Dr. Bui.
Some hot weather eye issues that impact people of all ages are:
Dry eyes. High temperature can cause the tear film of the eye to evaporate quickly, resulting in dry eye symptoms, including redness, irritation, burning sensation, and tearing.
Eye allergies. High temperatures and high levels of irritants and pollutants in the air increase the risk of eye allergies. Patients with eye allergies may experiences symptoms such as redness, itching, and burning sensation.
Conjunctivitis. A condition that occurs more commonly during the summer, caused by a viral or bacterial infection. Symptoms include redness, discharge, watery eyes, and foreign body sensation. Conjunctivitis can be contagious and can be passed through direct contact or sharing objects. Examples include towels, pillow sheets, and cosmetics.
Styes. A bacterial infection of the eyelids that causes swelling around the eyelids, including pain and redness around the styes. Although common in children, adults are also more susceptible to the condition during the summer.
Of course, you can still have fun in the sun, says Dr. Bui, as long as you take some careful yet simple steps to protect your sight from irritation and infection.
"Stay hydrated! Hydration not only helps the body but also protects the eyes from dry eyes. When outdoors, always wear sunglasses with full UV protection. Sunglasses also provide a barrier between your eyes and air pollutants and irritants."
According to Dr. Bui, our eyes can get sunburned from prolonged exposure to UV light and manifest in symptoms of irritation, burning sensation, and redness. Over time, chronic exposure can lead to pinguecula or pterygium (benign tissue growth on the eyes), development of cataracts, and macular degeneration. "The best way to protect your eyes is to wear sunglasses with full UV protection, including 100% UVA and UVB coverage or labeled as UV 400. Hats and caps are also helpful in cutting down direct sunlight to the eyes." If applicable, UV protection contact lenses are also effective when used in combination with these vision safeguards.
When indoors, avoid directing A/C units or fans towards your eyes, which can cause the eyes to dry out faster, advises Dr. Bui. Other helpful eye care tips include:
Steering clear from sharing towels, pillowcases, sheets, and cosmetics, especially with anyone suspected of having conjunctivitis;
Washing hands frequently with soap and water;
Practicing proper hygiene of the lids and lashes to prevent styes, including removing makeup every night and replacing makeup products routinely.
Taking regular breaks from the computer and near work and getting at least six to eight hours of sleep to rejuvenate your eyes and natural tears are also healthy habits to incorporate into your eye care routine in the summer months and all year long, says Dr. Bui.
"Most importantly, visit your optometrist to monitor your eye health and vision, and find out what is causing your condition and how to treat and manage them properly."
For more information about eye health and vision care services or to schedule an appointment, visit the SUNY College of Optometry University Eye Center website or call 212-938-4001.
Organization Contact: Adrienne Stoller, communications@sunyopt.edu or astoller@sunyopt.edu, 212-938-5600
###
About SUNY Optometry
Founded in 1971 and located in New York City, the State University of New York College of Optometry is a leader in education, research, and patient care, offering the Doctor of Optometry degree as well as MS and PhD degrees in vision science. The College conducts a robust program of basic, translational, and clinical research and has 65 affiliated clinical training sites as well as an on-site clinic, the University Eye Center. SUNY Optometry is regionally accredited by the Commission on Higher Education of the Middle States Association of Colleges and Secondary Schools; its four-year professional degree program and residency programs are accredited by the Accreditation Council on Optometric Education of the American Optometric Association. All classrooms, research facilities and the University Eye Center, which is one of the largest optometric outpatient facilities in the nation, are located on 42nd Street in midtown Manhattan. To learn more about SUNY Optometry, visit www.sunyopt.edu.