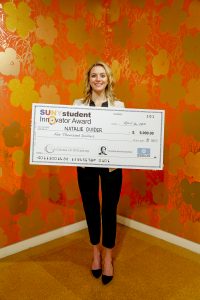 New York, NY—SUNY College of Optometry second-year student Natalie Duider was named the 2021 Student Innovator Award winner following the College's 6th annual competition held virtually on April 16. Her winning concept called "The At-Home Amblyopia Activity Book" offers simple yet accessible MFBF (monocular fixation in a binocular field) vision therapy exercises for children with amblyopia, a condition in which sight in one or both eyes doesn't develop the way it should.
The goal of the workbook, explained Duider, is to maximize at-home vision therapy by providing an easily customized, convenient, and affordable at-home option. It features fun, kid-friendly color by shape and number, mazes, puzzles, and various games to strengthen vision.
"When working in vision therapy, I struggled with finding MFBF activities that I could send home with [amblyopic] patients as an extension of their therapy. I started to create individualized pages of activities for each patient so that they could continue therapy [outside of the office visit]," said Duider. "The activity book is a collection of these pages."
Duider was among five finalists invited to present their ideas at the final phase of this competition which began last fall with abstract submissions evaluated and selected by a professional panel. Fellow student competitors included: Erica Meltzer and Sofia Ribolla, '22, presenting an at-home Amsler grid monitoring system for macular disease progression; Susan Chen and Schuman Chen, '21, sharing a solution to address the problem of the bulky, awkward trial lens frame; Melissa Levine, '21, demonstrating an improved scleral lens insertion system for your contact lens patients; and Student Innovator 2020 champion Jubin Shah, '21, returning to the contest with a novel protective covering for ophthalmic lenses.
All submissions were evaluated according to originality, impact, viability, and feasibility. Serving as panelists for this year's competition were Marc Ferrara, chief executive officer of the information services division of Jobson Medical Information and chairman of the Rick Bay Foundation for Excellence for Eye Care Education; Dr. Ryan Parker, director of professional education for Essilor of America, Inc.; Dr. David Troilo, vice president and dean for academic affairs at SUNY Optometry; Dr. Jennifer Gould, assistant clinical professor, and chief of advanced care services for the University Eye Center; and Kristen Fry, director of the Clinical Vision Research Center at SUNY Optometry.
Launched at SUNY Optometry in 2015, the Student Innovator Award was developed thanks to a partnership with Essilor and the Rick Bay Foundation to encourage student innovation in optometric education, practice and industry. The competition has expanded over time to include the participation of more than five optometry schools throughout the U.S. Winning concepts from this year's competition will be shared with a wider audience at the Vision Monday Global Leadership Summit in the fall.
April 21, 2021
Organization contact: Adrienne Stoller, communications@sunyopt.edu, 212-938-5600
###
About SUNY Optometry
Founded in 1971 and located in New York City, the State University of New York College of Optometry is a leader in education, research, and patient care, offering the Doctor of Optometry degree as well as MS and PhD degrees in vision science. The College conducts a robust program of basic, translational, and clinical research and has 65 affiliated clinical training sites as well as an on-site clinic, the University Eye Center. SUNY Optometry is regionally accredited by the Commission on Higher Education of the Middle States Association of Colleges and Secondary Schools; its four-year professional degree program and residency programs are accredited by the Accreditation Council on Optometric Education of the American Optometric Association. All classrooms, research facilities and the University Eye Center, which is one of the largest optometric outpatient facilities in the nation, are located on 42nd Street in midtown Manhattan. To learn more about SUNY Optometry, visit www.sunyopt.edu.