What You Need to Know About Diabetes and Vision Health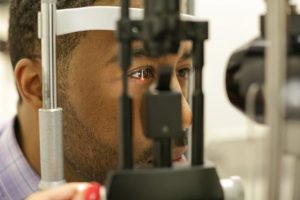 New York, NY—Did you know that diabetes can be detected through an eye exam? Because diabetes affects the blood vessels, the eyes are unique in that it is the only place in our body that we can see blood vessels without surgery, explains Dr. Shelby Leach, assistant clinical professor at SUNY College of Optometry.
"As optometrists, we may detect a change in the vessels found in the back of the eye that will lead us to ask the patient if he or she has diabetes or high blood pressure," says Dr. Leach, who is a primary care provider at the Barbara Saltzman Center for Pediatric Eye Care at the University Eye Center (UEC). "The hope is that the patient has been already diagnosed, but frequently it is the first sign of a problem."
According to the Centers for Disease Control, over 30 million people of all ages have diabetes, including 7.3 million undiagnosed patients. The issue is most prevalent among racial/ethnic minorities, particularly Black and Hispanic. For those living with diabetes, it is especially critical to monitor for diabetic eye disease. These conditions include:
Cataracts—a condition when the lens of the eye is clouded.
Glaucoma—a group of diseases that damage the optic nerve and can cause vision loss and blindness.
Diabetic retinopathy—the most common diabetic eye disease when high blood sugar causes vessels in the retina to swell and leak, distorting vision. It is a leading cause of blindness among adults ages 20 to 74. There are often no symptoms in the early stages and only noticed when it begins to impact vision.
"If your blood sugar is out of control, the lens inside your eye can change shape and fluctuate vision. It can also happen when a patient is placed on a strict insulin regimen to regulate blood sugar. But this is often because the blood sugar is getting under control and vision is normalizing," says Dr. Leach. Other signs include spots that appear to float across your field of vision caused by the bleeding, flashes in the field of vision, and fluid in the macula (called diabetic macular edema) that causes blurred vision.
How is diabetic eye disease diagnosed? A general comprehensive eye examination includes the dilation, or widening, of the pupils using drops to see if bleeding or new vessels are growing, indicates Dr. Leach. Your eye doctor may also test the pressure inside your eye, use optical coherence tomography to grab images of the tissues inside your eye, or perform a fluorescein angiogram to identify damaged blood vessels. "Using imaging we can take a photo of the back of the eye to detect changes in the vessels which can show the start of diabetes."
Those with early stages of diabetic eye disease need to have exams more frequently, and people with diabetes who become pregnant should have an exam immediately. Keeping your diabetes under control is also vital, stresses Dr. Leach. Patients should also take medications as prescribed, maintain a healthy weight, exercise daily, control blood pressure and cholesterol, and don't smoke. "It is important for patients with diabetes to keep their blood sugar level under control and know their numbers upon visiting the optometrist. This information can help your eye doctor to determine why there are changes in vision or vision loss and coordinate care with your primary physician," she adds.
In fact, early detection and subsequent treatment reduce the risk of blindness by 95 percent. That is why people with diabetes need to have regular comprehensive eye exams at least annually.
"I was diagnosed with diabetes about ten years ago and visit the University Eye Center each year to make sure that my eyes stay healthy. I've had few issues or adjustments to my prescription," says patient Jack Zuckerman, a certified public accountant and resident of Long Island. He has served as a clinical study volunteer at the UEC. "There are always new ways to treat illnesses. As a teaching and research facility, the Center at SUNY Optometry is at the cutting edge [of care] and are experts in the field. I know I'm in good hands."
For more information about diabetic eye care and other specialized services at the University Eye Center, visit www.sunyopt.edu or call 212-938-4001. Referrals are also accepted and welcomed.
Organization contact: Adrienne Stoller, communications@sunyopt.edu, 212-938-5600
###
About SUNY Optometry
Founded in 1971 and located in New York City, the State University of New York College of Optometry is a leader in education, research, and patient care, offering the Doctor of Optometry degree as well as MS and PhD degrees in vision science. The College conducts a robust program of basic, translational, and clinical research and has 65 affiliated clinical training sites as well as an on-site clinic, the University Eye Center. SUNY Optometry is regionally accredited by the Commission on Higher Education of the Middle States Association of Colleges and Secondary Schools; its four-year professional degree program and residency programs are accredited by the Accreditation Council on Optometric Education of the American Optometric Association. All classrooms, research facilities and the University Eye Center, which is one of the largest optometric outpatient facilities in the nation, are located on 42nd Street in midtown Manhattan. To learn more about SUNY Optometry, visit www.sunyopt.edu.