For Immediate Release: April 23, 2020
Organization Contact: Adrienne Stoller, communications@sunyopt.edu, 212-938-5600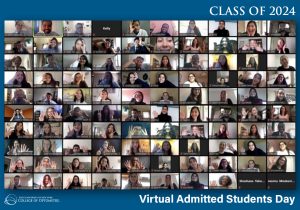 New York, NY—Nearly 100 prospective students hailing from 17 states close to home and across the U.S. participated in a virtual version of Admitted Students Day at the State University of New York (SUNY) College of Optometry held on April 17. The students represent the 49th class to enter the College which opened in 1971. During a time of year when prospective students would be flocking to Manhattan for a second look at what the school has to offer, the SUNY Optometry Office of Admissions has come up with creative ways to bring the campus to students amid the coronavirus pandemic.
"We held our first Admitted Students Day last year with the goal of helping students to get to know each other better, learn more about our innovative curriculum, and feel a part of the SUNY College of Optometry community," said Christian Alberto, MSEd, Director of Admissions. "The crisis has challenged our approach to what it means to come together, but we have discovered that distancing has the potential to bring us closer. In fact, the students have appeared more at ease posing questions and addressing concerns in this forum than in-person, especially helpful for those undecided about the next steps in their education and career."
The session began with a warm and candid welcome from SUNY College of Optometry leadership, including President David Heath, O.D., Dean and Vice President for Academic Affairs, David Troilo, Ph.D., and Vice President for Student Affairs, Guilherme Albieri, Ph.D., who collectively addressed the state of the college and actions taken by the school to manage the current health emergency.
"It was reassuring to know that SUNY is closely monitoring the pandemic and will consider our concerns while making decisions about how our fall semester will proceed," commented prospective student Gabrielle Thompson, a Missouri resident and 2017 graduate of the University of Illinois. "I feel more at ease about the protection that will be provided for us. I am excited and honored to be a part of this beautiful, prestigious community."
Following talks by College leaders was an interactive discussion about the school's curriculum, housing, financial aid, and other aspects of campus life led by faculty and current students, including small-group breakout "theme" sessions based on common interests. Topics to encourage togetherness included Netflix/television, cooking, crafting, fitness, and a virtual hang out with beloved pets which helped to forge a sense of camaraderie and fun.
"The reason I chose SUNY Optometry was its people! I love the friendly community and how approachable everyone has been with questions," said Shiwanee Rangaswamy, a senior at Rutgers University in New Brunswick, New Jersey. "Holding a virtual Accepted Students Day truly shows how much SUNY cares about their students, whether we're on campus or not."
In addition to opportunities like Admitted Students Day, social media platforms like Instagram and Facebook have become invaluable tools for SUNY College of Optometry admitted students to connect with classmates of all levels of study as well as faculty and staff amid the pandemic. Mr. Alberto said that he and the SUNY Optometry admissions team plan to maintain the continuity with "Webinar Wednesdays," a monthly series that will include information about enrollment requirements and address pressing questions. 
"The incoming class is a very socially engaged group, and they are seeking more opportunities to get to know each other and gather more information about our school. Working together, we intend to help them navigate this unprecedented time and transition in their education."
Learn more about SUNY College of Optometry student life and admission at www.sunyopt.edu/explore.
###
About SUNY College of Optometry

Founded in 1971 and located in New York City, the State University of New York College of Optometry is a leader in education, research, and patient care, offering the Doctor of Optometry degree as well as MS and PhD degrees in vision science. The College conducts a robust program of basic, translational and clinical research and has 65 affiliated clinical training sites as well as an on-site clinic, the University Eye Center.  SUNY College of Optometry is regionally accredited by the Commission on Higher Education of the Middle States Association of Colleges and Secondary Schools; its four-year professional degree program and residency programs are accredited by the Accreditation Council on Optometric Education of the American Optometric Association. All classrooms, research facilities and the University Eye Center, which is one of the largest optometric outpatient facilities in the nation, are located on 42nd Street in midtown Manhattan. To learn more about SUNY College of Optometry, visit www.suny.edu.