Dr. Matthew Bovenzi has served as the Assistant Chief of the Primary Care Service since May 2016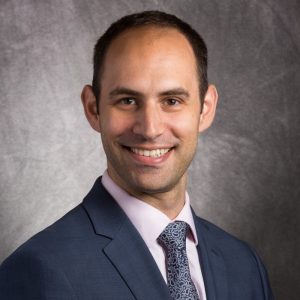 New York, New York – SUNY College of Optometry today announced the appointment of Dr. Matthew Bovenzi as the new Chief of Advanced Care for the University Eye Center (UEC). The Advanced Care division supports approximately 14,000 patient visits annually including clinic services for glaucoma, retina, electrodiagnostics, oculoplastics, genetic testing, imaging, anterior segment, cataract, and neuro-ophthalmology. In this role, Dr. Bovenzi will provide strategic leadership for the medical staff within the division, ensure effective and efficient delivery of the highest quality patient care for the ocular disease and contact lens clinics, and continue teaching the future generation of optometry students. Additionally, Dr. Bovenzi will serve as the UEC's Laser Safety Officer 
"The UEC is extremely pleased to welcome Dr. Bovenzi to the position of Chief of Advanced Care. This is a well-deserved appointment, and we are confident that his experience and dedication to optometric education will serve him well as Chief," said Dr. Michael McGovern, Chief Medical Officer. "Dr. Bovenzi generously gives of his time and talent to the students and faculty of SUNY Optometry, and we look forward to seeing how he will continue to impart knowledge and contribute to our school's impactful work in this leadership position." 
Dr. Bovenzi has served as SUNY Optometry's Assistant Chief of the Primary Care since May 2016. A graduate of SUNY Optometry, Dr. Bovenzi has been an active member of the College community and the clinical faculty with teaching experience ranging from lecturing on ocular disease to leading integrated small group seminars and serving as the instructor of record of a glaucoma elective and the posterior segment ocular disease courses. Having specialized training in advanced surgical procedures and laser therapy, he also instructs advanced procedures and clinical optometry labs.
"I am grateful for this opportunity to lead this critical service area for the University Eye Center and to bring my knowledge and expertise to my alma mater," shared Dr. Bovenzi. "As ocular diseases become more prevalent due to rising prevalence of systemic diseases with ocular effects such as diabetes and hypertension, we will need to continue to adapt and advance our services for patients with new diagnostic technologies and treatments. I look forward to ensuring that we have the premier advanced eye care clinic in the country."
Board-certified and residency-trained in ocular disease and family practice optometry, Dr. Bovenzi has been published in peer review journals and serves frequently as an invited speaker for programs both nationally and internationally. Dr. Bovenzi has been active with Volunteer Optometric Services to Humanity – International (VOSH-I) for over a decade and has taken part in several international service trips. In 2021, Dr. Bovenzi was selected as New York State's "Educator of the Year" by the New York State Optometric Association. He currently serves as faculty advisor for two student clubs, an academic advisor, a reviewer for the SUNY Residency Writers' Workshop, and serves as treasurer of the Optometric Society of the City of New York. 
A Cornell University graduate, Dr. Bovenzi was an officer in the U.S. Navy prior to enrolling in SUNY Optometry where he completed his doctor in optometry (OD) degree in 2014. He went on to complete his residency at the East New York Diagnostic and Treatment Center, a SUNY Optometry residency site, before returning as an assistant clinical professor. He was promoted to the rank of associate clinical professor in 2021.
Dr. Bovenzi is available for interviews and insights upon request.
FOR IMMEDIATE RELEASE: April XX, 2022
MEDIA CONTACT:  Dawn Rigney | communications@sunyopt.edu | 212-938-5600
###
About SUNY Optometry
Founded in 1971 and located in New York City, the State University of New York College of Optometry is a leader in education, research, and patient care, offering the Doctor of Optometry degree as well as MS and PhD degrees in vision science. The College conducts a robust program of basic, translational, and clinical research and has over 65 affiliated clinical training sites as well as an on-site clinic, the University Eye Center. The Optometric Center of New York serves as the College's affiliated philanthropic foundation securing resources to support the mission of the College. SUNY Optometry is regionally accredited by the Commission on Higher Education of the Middle States Association of Colleges and Secondary Schools; its four-year professional degree program and residency programs are accredited by the Accreditation Council on Optometric Education of the American Optometric Association. All classrooms, research facilities and the University Eye Center, which is one of the largest optometric outpatient facilities in the nation, are located on 42nd Street in midtown Manhattan. To learn more about SUNY Optometry, visit www.sunyopt.edu.