Nearly 200 items collected throughout the holiday drive will help address food insecurity for college and graduate students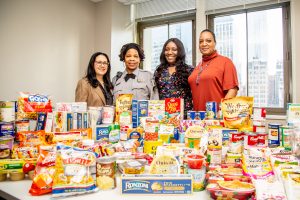 NEW YORK, N.Y. (January 10, 2020) — Students, staff and faculty of SUNY College of Optometry partnered with the Single Stop office at Guttman Community College, a neighboring college, to collect nearly 200 non-perishable items for the student food pantry during their holiday food drive. Liduvina Martinez-Gonzalez, vice president for clinical administration and executive director of the University Eye Center, and colleagues delivered the donation today on behalf of the College as a part of a long-standing partnership between the schools to address the food insecurity needs of college students.
"Food insecurity is a widespread, yet rarely discussed, issue across college campuses," said Ms. Martinez-Gonzalez. "Programs like Single Stop provide the services and resources needed to address the barriers that often prevent students from attending or completing school. Donations like the one provided today help us ensure that no student has to choose between their education and basic needs."
Guttman Community College's Student Food Pantry opened in March 2016 in partnership with Single Stop and the Food Bank for New York City in an effort to address immediate nutrition assistance. The food pantry currently provides a wide supply of healthy options for both SUNY Optometry and Guttman Community College students in need of supple
mental food.
About SUNY Optometry
Founded in 1971 and located in New York City, the State University of New York College of Optometry is a leader in education, research, and patient care, offering the Doctor of Optometry degree as well as MS and PhD degrees in vision science. The College conducts a robust program of basic, translational and clinical research and has 65 affiliated clinical training sites as well as an on-site clinic, the University Eye Center.  SUNY Optometry is regionally accredited by the Commission on Higher Education of the Middle States Association of Colleges and Secondary Schools; its four-year professional degree program and residency programs are accredited by the Accreditation Council on Optometric Education of the American Optometric Association. All classrooms, research facilities and the University Eye Center, which is one of the largest optometric outpatient facilities in the nation, are located on 42nd Street in midtown Manhattan. To learn more about SUNY Optometry, visit www.suny.edu.