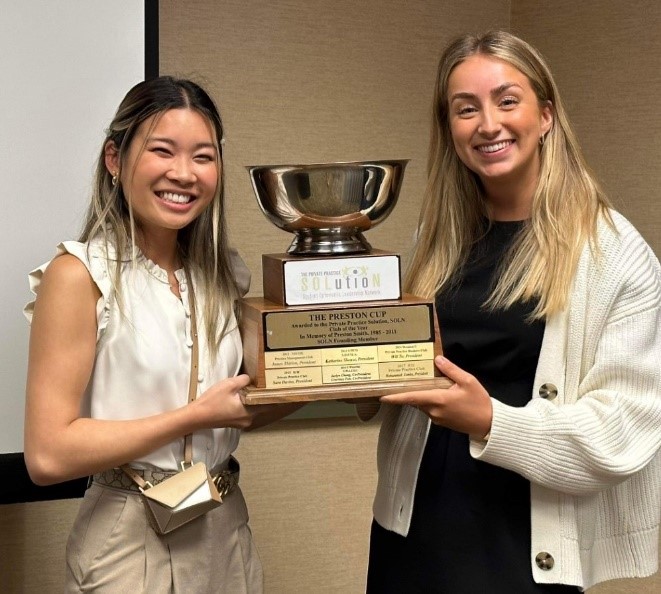 SUNY Optometry Student Group Scores First Win of Prestigious Preston Cup
New York, NY: SUNY College of Optometry and the Student Optometric Association for Private Practice (SOAPP) were awarded the 2023 Preston Cup at the annual SOLutioN Conference in Sacramento, California last week. The Preston Cup is awarded each year to the most deserving Student Optometric Leadership Network (SOLN) private practice or practice management club. Each SOLN member attending the annual conference votes on which of their fellow organizations has gone above and beyond over the past year. This marks the first time SUNY Optometry has received the top honor since the Preston Cup was first awarded in 2012. On hand to accept the award were SUNY Optometry students Jennifer Le, '24 and Julianna Dolinski, '25
"Jennifer and I are extremely proud of winning the Preston Cup for the first time for SUNY Optometry," Ms. Dolinski noted when asked about bringing home this prestigious honor. "We are both very passionate about private practice and hosting great events for students that revolve around networking and exploring different modes of practice. This was a great achievement and reminder that we had a successful year with the Student Optometric Association for Private Practice Club."
Jennifer Le is a 4th year student who served as the president of Student Optometric Association for Private Practice (SOAPP) for the 2022-2023 school year. She grew up in Chino Hills, CA and went to UC San Diego for her undergraduate degree in Physiology and Neuroscience. At SUNY, she is the Class of 2024's vice president and tutors for Beta Sigma Kappa (BSK), the international optometric honor society. Jennifer joined SOAPP because she is planning to own a private practice in the future, and became more involved with the club because of the networking opportunities and knowledge it provides. In her free time, she loves traveling, dressing up, eating out, and playing board games.
Julianna Dolinski is a current 3rd year student and the incoming president of SOAPP. Originally from Long Island, New York where she also attended Hofstra University as a biology major, she is passionate about private practice and hopes to be a practice owner with a specialty in contact lenses in the future. Outside of SOAPP, she is also involved in BSK and was a peer mentor for first year students. She continues to be a technician at a local practice and takes healthcare administration courses outside of SUNY Optometry. Beyond the eyes, she also enjoys playing the piano and paddle-boarding in the summertime.
The Preston Cup was created in honor of Preston Smith, a 4th year student at Northeastern State University Oklahoma College of Optometry (NSUOCO), and one of the founding members of SOLN during the first annual Student Private Practice Symposium and Leadership Conference held in April 2011. Tragically, at only 26-years-old, Preston was killed in an automobile accident that same year. This award carries on Preston's legacy while the loss still weighs heavy on the hearts of many friends and family Preston left behind.
Contact: Rob Rosiello, communications@sunyopt.edu
FOR IMMEDIATE RELEASE: Thursday, June 29, 2023
###
About SUNY Optometry
Founded in 1971 and located in New York City, the State University of New York College of Optometry is a leader in education, research, and patient care, offering the Doctor of Optometry degree as well as MS and PhD degrees in vision science. The College conducts a robust program of basic, translational and clinical research and has 65 affiliated clinical training sites as well as an on-site clinic, the University Eye Center. SUNY Optometry is regionally accredited by the Commission on Higher Education of the Middle States Association of Colleges and Secondary Schools; its four-year professional degree program and residency programs are accredited by the Accreditation Council on Optometric Education of the American Optometric Association. All classrooms, research facilities and the University Eye Center, which is one of the largest optometric outpatient facilities in the nation, are located on 42nd Street in midtown Manhattan. To learn more about SUNY Optometry, visit www.sunyopt.edu