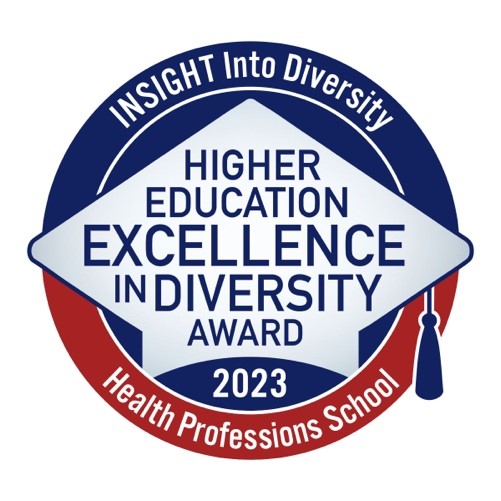 New York, NY: SUNY College of Optometry received the 2023 Health Professions Higher Education Excellence in Diversity (HEED) Award from INSIGHT Into Diversity magazine, the oldest and largest diversity-focused publication in higher education. As a recipient of the annual Health Professions HEED Award — a national honor recognizing U.S. health colleges and universities that demonstrate an outstanding commitment to diversity and inclusion — SUNY Optometry will be featured, along with 64 other recipients, in the November/December 2023 issue of INSIGHT Into Diversity magazine. This is the first time SUNY Optometry has been named as a Health Professions HEED Award recipient.
"Situated in one of the most diverse cities in the America, SUNY Optometry is a destination of choice for students, faculty, staff and patients of diverse identities," noted Dr. Joy Harewood, Chief Diversity Officer and Associate Clinical Professor at SUNY Optometry. "We seek to train clinicians and vision scientists to tackle the health disparities of today and be prepared for the eye care needs of tomorrow. We are proud of our achievements while acknowledging that inclusive excellence is a journey, not a destination. This award has reinvigorated our efforts and will help us along the path to becoming a more inclusive and equitable community."
"Increasing representation within our student population is one of our key strategic initiatives and of critical importance for the future of the optometric profession," Dr. David Heath, President of SUNY Optometry, said. "I'm pleased with the success that we have seen with our diversity and inclusion programming. More importantly, I look forward to the potential that that all our programs have for our continued efforts toward ensuring that we have an exceptionally diverse and inclusive community at the College and across the optometric profession."
INSIGHT Into Diversity magazine selected SUNY Optometry for several programs they have presented and continue to promote. These programs include: Community Book Project; Race in Optometry webinar series; Pathway programs and on-campus open houses such as CSTEP, Eye-CARE camp, and high school open houses.
"The Health Professions HEED Award process consists of a comprehensive and rigorous application that includes questions relating to the recruitment and retention of students and employees — and best practices for both — continued leadership support for diversity, and other aspects of campus diversity and inclusion," said Lenore Pearlstein, publisher of INSIGHT Into Diversity magazine. "We take a detailed approach to reviewing each application in deciding who will be named a Health Professions HEED Award recipient. Our standards are high, and we look for schools where diversity and inclusion are woven into the work being done every day across their campus."
For more information about the 2023 INSIGHT Into Diversity Health Professions HEED Award, visit insightintodiversity.com.
Media Contact: Rob Rosiello, communications@sunyopt.edu
FOR IMMEDIATE RELEASE: Thursday, November 9, 2023
###
About SUNY Optometry
Founded in 1971 and located in New York City, the State University of New York College of Optometry is a leader in education, research, and patient care, offering the Doctor of Optometry degree as well as MS and PhD degrees in vision science. The College conducts a robust program of basic, translational and clinical research and has 65 affiliated clinical training sites as well as an on-site clinic, the University Eye Center. SUNY Optometry is regionally accredited by the Commission on Higher Education of the Middle States Association of Colleges and Secondary Schools; its four-year professional degree program and residency programs are accredited by the Accreditation Council on Optometric Education of the American Optometric Association. All classrooms, research facilities and the University Eye Center, which is one of the largest optometric outpatient facilities in the nation, are located on 42nd Street in midtown Manhattan. To learn more about SUNY Optometry, visit www.sunyopt.edu.
About INSIGHT Into Diversity
INSIGHT Into Diversity magazine is the leader in advancing best practices in DEI (diversity, equity, and inclusion) in higher education. Through thought-provoking print and online articles, we share expert advice, valuable resources, in-depth profiles of top DEI programs at colleges and universities, headline news, and much more to help keep our readers informed and empower them to advance DEI initiatives at their institutions. To further our mission, we created the INSIGHT Into Diversity Higher Education Excellence in Diversity (HEED) Award in 2012. The HEED Award — including the more targeted INSIGHT Into Diversity Health Professions, Law School, and Community College HEED Awards — is the only national honor to recognize institutions of higher education for their outstanding commitment to diversity, equity, and inclusion. Current, archived, and digital issues of INSIGHT Into Diversity magazine are available online at insightintodiversity.com.