People with undiagnosed vision problems trust the College to use electroretinography to determine if they are candidates for gene therapy.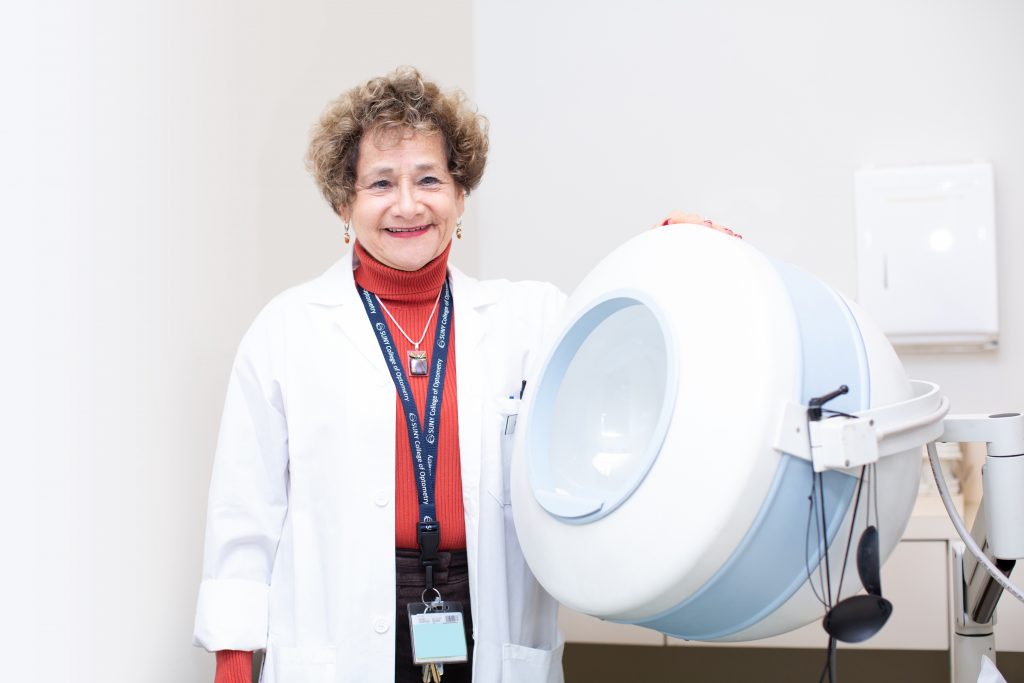 NEW YORK, N.Y. (November 27, 2019) – Trained eye care professionals are the first line of defense when patients present with vision problems. But sometimes, they need a little help. At SUNY College of Optometry, that often means turning to the VERIS electroretinogram (ERG) machine.
Purchased nearly 20 years ago, it packs a big punch. An ERG uses electroretinography, which measures the electrical response of the light-sensitive cells in your eyes, to determine if a patient has an inherited eye disease so that their doctor can put them on the correct path to treatment.
"The ERG aids in the diagnosis of diseases and prognosis of progressive diseases. For example, a patient who presents with a symptom of night blindness can either need stronger glasses, or have a disease called congenital stationary night blindness, or a disease called retinitis pigmentosa, a progressive disease that can lead to blindness," says Dr. Sherry J. Bass, distinguished teaching professor at the College. "The ERG is crucial in differentiating these diseases since a patient needs to know whether they have a stationary or progressive disease, or if they are a candidate for gene therapy."
ERG has been around for more than 60 years, but there aren't many facilities equipped with the technology. The College's ERG is housed on the clinical floor of the Advanced Care Service, and it's used to help patients all over the region.
"The University Eye Center of the SUNY College of Optometry receives many in-house and out-of-house referrals from both optometrists and ophthalmologists," says Bass. "Often patients present with unusual retinal findings and symptoms. The referring doctors are unable to diagnose what their patients have and refer them to our electrodiagnostic clinic, where we often have to perform an ERG."
Patients who are sent for referral are typically experiencing night blindness, reduced vision or poor color vision, as well as those with dense cataracts or a history of trauma to the eyes, as this test can determine if the retina is functioning normally.
Residents in the College's ocular disease program have the unique opportunity to use the ERG to help patients. "Each of our residents spend 13 weeks testing patients using the ERG. They learn the applications of this test, how to perform it and how to interpret the findings," explains Bass.
The impact on the profession is wide-reaching—as is the impact on the people who trust the College with their vision. "We have diagnosed patients who have lived their entire lives never knowing why they have poor vision, poor color vision or poor night vision. They have never been diagnosed. Every patient deserves a diagnosis," says Bass. She adds that with the advent of gene therapy for inherited eye diseases, a proper diagnosis can lead to improved quality of life for patients and their families. "Genetic counseling can only occur after a correct diagnosis has been achieved; families want to know if their children will be affected. The ERG is crucial."