The virtual meeting space launched in September.
A school's community is only as strong as the alumni it sends out into the world, and a recent SUNY Optometry initiative aims to flex some major muscle.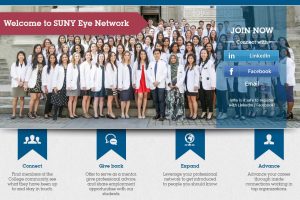 Launched in September 2017,
SUNY Eye Network
is a virtual meeting space for alumni to connect with each other and the entire College community, including students, faculty, staff and board members. "It opens the alumni network for enhanced professional development. This did not exist before and is essential for mutually beneficial relationships," says Jennifer Kelly Campbell, associate vice president of alumni and government relations. "We hope it will increase alumni engagement, increase awareness of alumni success stories, and increase connections between alumni and students for enhanced professional development."
The platform was created via a partnership between the Office of Alumni Relations and the Career Development Center (CDC) in response to requests the offices field: "The primary requests alumni have is to connect with each other, their favorite professors and source talent for their organizations. The primary request students have of the alumni relate to professional development guidance," Mrs. Campbell says. She proposed the Graduway-supported platform as a counterpart to the CDC's Family of Mentors program. "The director of career development, Dr. Quy Nguyen ('13), and I built the platform together. We spent 15 to 20 hours a week for eight weeks constructing the framework and determining desired outcomes for all end users," she explains. It took just nine months to create with assists from the President's Office, Institutional Advancement, Student Affairs, IT, Communications and Marketing and the Alumni Association board.
So far, the community seems to be excited to connect. "We receive positive comments from alumni about the network every day," Mrs. Campbell says. "Before the first month was up, 10 percent of the alumni had already joined SUNY Eye Network. And more than 90 percent of alumni indicate they are willing to help fellow alumni and students with professional development."
What's next for the network? "As with all star performers there will be a tour! We will be demonstrating SUNY Eye Network at events, including Optometry's Meeting, Academy, Envision Weekend at the College and the Alumni Reunion Reception at the Princeton Club, NYC," Mrs. Campbell says. "We invite all alumni to join the network and use the platform to share professional successes and personal milestones with the SUNY College of Optometry family."
Access the SUNY Eye Network at SunyEyeNetwork.org